Think About Your Demographic
Once you've had printing orders and some sales, you'll have a much better idea about who your demographic is. As a result, you'll be able to refine what size breakdown is right for your business. However, right now we're assuming you're starting fresh and have probably already decided how many t shirts you should order. So let's go with some loose guidelines.
Every brand or businesses demographic is different, and 'everyone' is rarely the correct answer. Think about your audience. For example, bodybuilders are probably going to be on the larger size. Runners, perhaps on the smaller size. We find a number of customers may drop Smalls, in favour of XXL. You may also find that if you have a large audience base, you'll receive more requests for sizes that you may not have ordered otherwise (like XS, XXL+).
Another way to get an idea of the sizes for your demographic, is to ask your audience directly. There are a number of ways to do this – for example a poll on social media. A poll is likely get more responses than a pre-order, as it doesn't require any money or commitment from the person.
Know How the Products Fit
We always recommend checking the measurements and/or ordering a sample of the products you'd like to go ahead with for your order. It's worth noting that a 'standard' or 'universal sizing' for garments does not exist. The fitting of products can depend greatly on the brand, and the style of the product. We find the majority of ladies garments are very fitted styles, sometimes more so than people expect.
With fitted styles it may be a good idea to err on the side of caution and increase the number of larger sizes ordered / go up a size. If you're in doubt about any products, you can either ask us about them or request a blank sample alongside a Sample Store product purchase. Samples may be returned to us to use as part of your order.
Consider the Printable Area
Occasionally, we find that customers may drop smaller sizes due to the restriction those sizes pose on how big their design can be printed. This is because the print area of a design is limited by the smallest item in an order. If you want a design to cover the full front of a Large Unisex t shirt, this would not fit on the front of a Ladies Small t shirt.
In this situation, the options you are left with are:
Reduce design size across the order
Have an additional setup/order for smaller items
Drop the smaller sizes
If you do consider dropping smaller sizes in exchange for a larger print area, bear in mind this may mean some customers will miss out.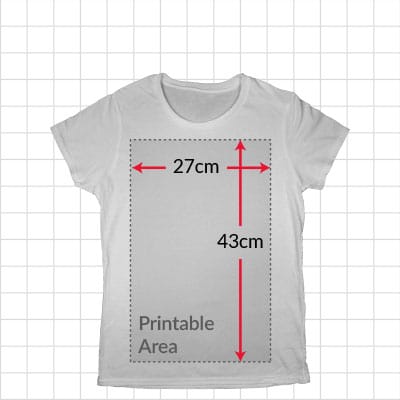 Print Area of Ladies Small T Shirt
Check Availability of Uncommon Sizes
If you require a particular colour or style of product, the availability of sizes may be more limited. Typically sizes larger than 2XL have a much more limited colour range, although this will vary from brand to brand. This may also be the case for smaller sizes such as XS. If you anticipate needing extra small or some larger sizes, then a brand like Stanley/Stella probably offer the widest range of sizes, in the widest range of colours.
Formatting Your Size Breakdown
When sending the size breakdown for your orders by email, it's important for us to know:
No. of colourways (ink colour changes)
The product names or codes (if known)
Garment colours required for each product
Quantity per size
Take a lookat our example size breakdown formatting. This is the best way to list your requirements in a way that will be clear to us, and will speed up processing your quotation or order.
Please do not send us spreadsheets, as we find these generally slow down the process and can make things confusing for both parties. Plain text formatting is usually best.
Colourway 1 (White Ink):


Unisex GD15 (Pitch Black):
Small x 10
Medium x 15
Large x 15
XL x 10


Ladies GD90 (Navy):
Small x 10
Medium x 15
Large x 15
XL x 10
Still Unsure on Size Choice?
If you're genuinely still stuck on what sizes to order, and it's not convenient to ask your audience, there are some rough ratios that you could start with.
Our suggestion is to go with a ratio of 2, 3, 3, 2, for sizes Small to XL.
So for 50 t shirts, that would be:
Small x 10
Medium x 15
Large x 15
XL x 10
Once you've got some some sales data, you can then refine this ratio for future orders.