Cotton
Cotton is the most produced fabric in the world. Part of this popularity is due to its breathability. The soft natural fabric moves heat and perspiration away from the body. In addition, its absorbency and durability make it ideal for custom printing.
Organic cotton products are also widely available. These originate from GMO-free plants which avoid synthetic agricultural chemicals (fertilisers or pesticides).
Find out more about sustainable cotton on the Soil Association website.
Breathable, organic options available.
Polyester / Poly-cotton
Polyester is a synthetic fabric derived from non-renewable resources. It is much more durable than cotton and doesn't shrink or wrinkle. However, it isn't as soft or breathable as cotton. To get the best of both materials, polyester is often blended with cotton to create a 'poly-cotton' mix.
As polyester does not bleach, it means poly-cotton items are not ideal for discharge printing. Therefore, higher polyester content means less effective bleaching. For these material blends we would recommend opaque inks.
Polyester content derives from plastic and will not discharge.
Bamboo
A natural, organic fabric grown from the pulp of bamboo grass. Bamboo is considered sustainable as it doesn't require herbicides or pesticides to grow quickly. In addition, these lightweight materials are ideal fabrics for printing with softer inks. Such as discharge inks.
Organic, lightweight.
Recycled Fabrics
Usually a poly-cotton mix that combines pre-consumer organic cotton and post-consumer polyester. This salvage tends to be from cuttings and recycled bottles.
Eco-friendly, tends to be poly-cotton mix.
Hemp
A strong, eco-friendly crop that requires very little water to grow. As a result, hemp t shirts are growing in popularity. Despite this, our suppliers are not yet unable to supply them for mass wholesale purchases.
Not yet offered by our suppliers.
Slubs
Slubs refer to fabric blends that produce a unique multi-colour or tonal effect. This is by interweaving different colours or types of fiber. Examples of this are 'heathers', which are common across brands. Slubs tend to be a poly-cotton mix. Which means they tend not to be suitable for discharge printing. However, there are exceptions.
The unique appearance of slubs can be difficult to accurately represent online. Therefore, we recommend getting a sample of these type of t shirts. Make sure you're happy with them, before you use the fabrics for printing within a full order.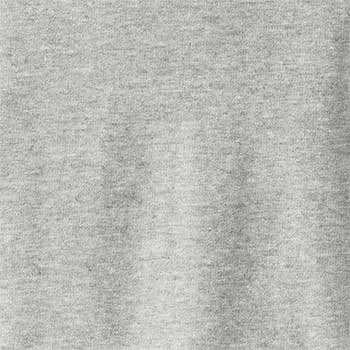 Gildan Sport Grey slub t shirt.