We can offer many labeling, relabeling and finishing services to bring your branded garments to the highest standard. Woven labels, hem and sleeve labels. Inside neck prints with labels removed. Poly bagging, size stickers, and swing tags. Some of these extras may extend overall lead times.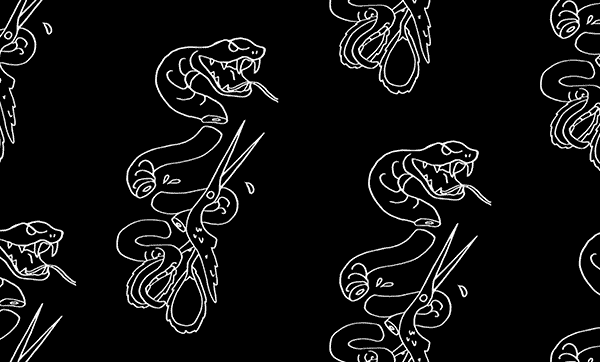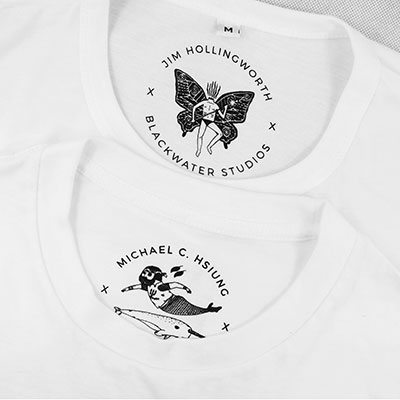 Neck Printing Templates
If you are unsure how to prepare your inside neck design, you can download our template or some example layouts below.
Printing your neck artwork straight into the garment. Artwork should be single colour and provided for each garment size (if required). There are two main ways of laying out inside neck prints: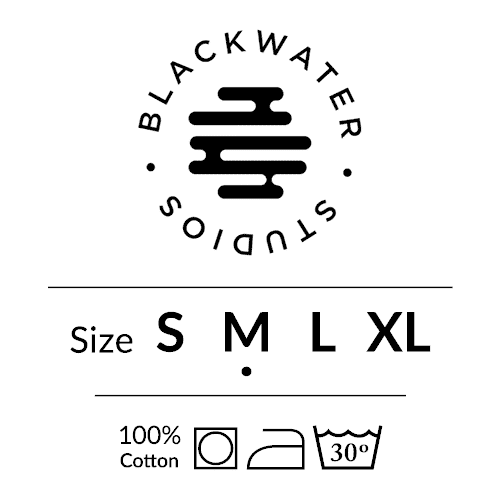 Combo Inside Neck
Save money on screens, by placing all sizes on one design, and identify sizes with an indicator.
Individual Screens
Can create separate design for each size. More expensive / has minimum quantities.
If you decide to remove the original garment labels, you should make sure the size and washing instructions are still featured on the garment. Generally this means incorporating them into your inside neck print or custom label. See our 'Relocation of Garment Information' section below.
Find out more about inside neck printing preparation.
Min Order (Combo Screen): 50 ItemsMin Order (Individual Screens): 100 Items / 25 per size
Addition to Turnaround Time: N/AMax Print Area: 12cm x 10cm
Inside Neck Printing
Garment Label Removal (Per Label)
42p
Combo Inside Neck (Recommended)
Initial Screen Cost (includes all sizes)
£10
Cost Per Print (50-99) / (100+)
55p / 45p
Colour Change
£15*
Example Price: 50 inside neck prints in one colour + label removal
£58.50 (£70.20 Incl VAT)
Individual Screens
Initial Screen Cost (per size)
£10 each
Cost Per Print (50-99) / (100+)
55p / 45p
Colour Change
£10**
Example Price: 50 inside neck prints, 4 sizes (S, M, L, XL),
in one colour + label removal
£97 (£116.40 Incl VAT)
Prices exclusive of VAT
*Per colour change. All sizes included.
**Per colour and size. Minimum applied to each colour (e.g., 25 smalls in red, 25 smalls in blue).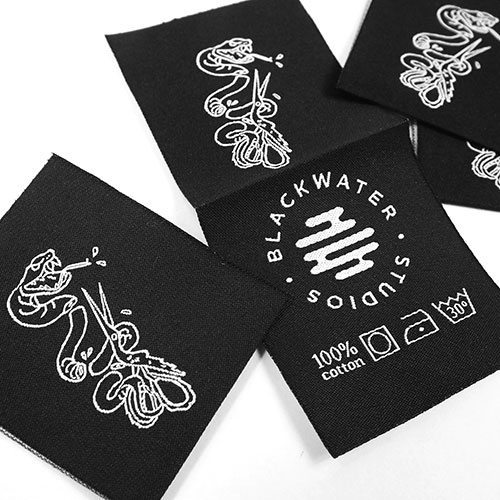 Please note: Relabeling is not available as a standalone service (it is only available as a complimentary service to our screen printing and/or embroidery services).
Get custom woven labels for your t shirts. The minimum order for manufacturing woven labels is 500 units. Lead time for manufacturing labels is 3 weeks + 1 week for labelling/relabeling, and can run concurrent with your screen printing turnaround. You do not need to use all 500 in the first order.
After the initial manufacturing order, the turnaround time on relabeling is reduced to 5 additional days on your order. We can also hold onto your label stock, for convenience.
Min Order (Relabeling): 50 ItemsMin Order (Manufacturing): 500 Labels
Added Turnaround for Relabeling / Manufacturing + Relabeling: + 5 days / Up to 20 Days
Stitching in Labels
We will stitch with thread colours that match both the garment and label itself. If you have a preference or specific requirement, please let us know.
When stitching center fold labels into the inside neck, generally this will be under the neck tape. However we can stitch over the tape on request.
| Stitching | Price Per Label |
| --- | --- |
| Stitch in Woven Label | 42p |
| Prices shown are per unit and exclusive of VAT | |
Please be aware that we do not offer label stitching onto kid's sleeves. If you have kid's items in your order, we recommend putting your label on the bottom hem as an alternative.
Supplying Your Own Labels
We no longer allow customers to supply their own woven labels to us, for stitching. This is mainly due to the complexity of ensuring that the labels met the specifications we require for stitching, when they were supplied to customers by third parties. Therefore, we will only stitch in labels we've had manufactured on your behalf.
Manufacturing
The minimum for manufacturing starts at 500 labels, then a minimum of 100 per size break (Small x100, for example). Although it adds to the total turnaround time, it is separate to your screen printing / embroidery turnaround and can run alongside it.
We recommend organising your labels as early as possible, as the relabeling itself can only begin once the labels are with us.
| Manufacturing Labels | Price Per Label |
| --- | --- |
| Based on 1 Colour label with 1 thread colour. | |
| Custom Labels (Minimum Order of 500) | 36p |
| Prices shown are per unit and exclusive of VAT | |
Below you will find examples of different types of labels that can be made and downloadable templates for them. Feel free to ask if you don't see what you're looking for, or have questions.
Label Types / Templates
Create your own custom woven labels by downloading our example .psd file templates of the woven labels we offer.
Labels can also be sized to custom specifications if required. Please ensure you provide dimensions and colours for these when you enquire.
If removing existing garment information (such as fiber composition or sizing) as part of your order, please ensure you incorporate this information into your label as needed.
Best choice for inside neck. An additional 5mm is added to each end, allowing this to be stitched under the neck tape.
Typical size (folded): 4.5cm x 5cm*
Typical size (unfolded): 4.5cm x 10cm*
*Includes stitch zones.
Best choice for hems, like sleeve ends. These tend to be smaller than a centre fold label, and they don't usually contain any text.
Typical size (folded): 2cm x 2cm
Typical size (unfolded): 2cm x 5cm*
*Includes stitch zones.
You may want to have labels removed if you are having a custom inside neck print, or want to add custom woven labels.
Minimum Order : 50 Items
Addition to Turnaround Time: None (Order Size Dependent)
| Removal Options | Price Per Label |
| --- | --- |
| Inside Neck Label Removal | 42p |
| Prices shown are per unit and exclusive of VAT | |
Label Removal Options
When it comes to label removal, there are a few things to consider first:
How you want to replace the removed information (see Relocation of Garment Information)
Where the existing labels are on the product you'd like to use
What the purpose of removing the labels is
If the aim is to remove any previous 'branding', the ease of this is dependent on the garment. For example, rebranding Gildan t shirts is easier than Continental, as Gildan place their labels under the necktape.
Meanwhile, Continental products have their primary labels stitched into the inner side-seam. These are usually stitched into the product during the manufacturing process, and are not possible for us to remove. However, if you are using Continental for their certified organic credentials, it may in fact add value to your product to leave these in.
The upside to products with side-seam labels, is that they tend to have an unbranded size tabs in the neck. This means you can create one custom woven label (or inside neck print) and use it across all sizes, instead of holding inventory of labels for each size.
Generally when removing labels we will be cutting them out in most cases, however some brands offer tear-out labels on certain products (such as Gildan). If you are having your own woven labels added to the neck, we will remove them during this process.
Relocation of Garment Information
If you have existing labels removed, you may need to have information from them relocated, such as size indication, fiber composition or wash instructions. The legal requirements for this are dependent on the country in which you intend to sell the garments. For example, the UK has no law that requires you to mark the origin. However, internationally there may be requirements for this.
For selling within the UK, there is a legal requirement to state the fiber composition of the garment, either on the items or packaging. Although wash instructions are not legally required, they are strongly advisable and must be correct if included.
Below are some ways to relocate information from removed garments labels:
Add to your own custom labels
Add to a print on the inside neck
Stickers on poly bags (see below)
Swing tags (we can attach, but not produce these)
Bulk bagging (we will split by size, if no alternative has been specified)
If you decide not to fulfill the legal requirements within your order with us, it is your responsibility to ensure they are met once you receive your order and before selling your product.