Minimum Initial Order: 10 ItemsMinimum Re-Order: 1 Item
Turnaround Time: 10 Working Days Max Print Area: 35 cm x 40 cm
Digital printing (DTG printing) is one of the newest forms of garment printing. In some ways, the process is similar to that of a regular office ink jet printer. This is because your design is printed directly onto the t shirt. DTG printing is perfect for smaller quantity orders and designs that may not be well suited for
screen printing
.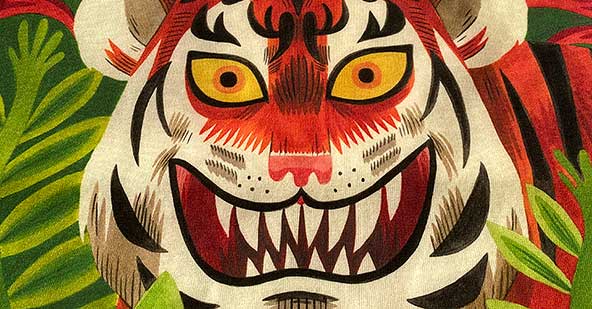 Benefits of Direct to Garment (DTG) Printing
Low Minimum Orders
Unlike screen printing, which is perfect for larger quantities, DTG printing allows for lower minimum orders. This is because the DTG process requires very little setup. However, larger orders are overall more cost-effective per unit.
New orders starting at 10 units, re-orders of any quantity.
Printing Complex Images
Digital DTG printing is ideal for designs that have lots of varying complex colours and tones, such as photographs. It will capture every detail and does not affect your minimum order. However, it can't match the bright sharp spot colours achievable with screen printing.
Full colour images at no extra cost.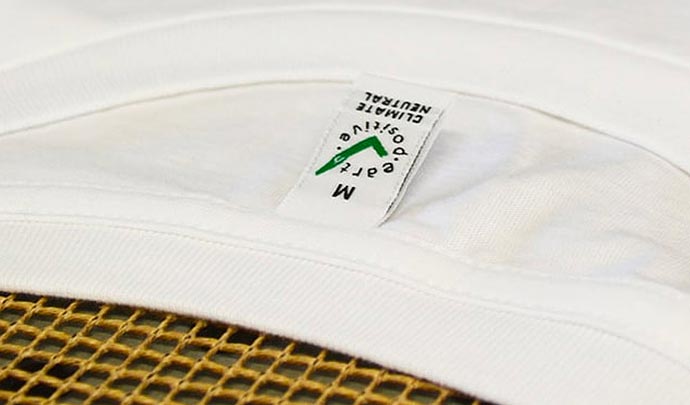 Print on Organic Cotton
What digital printing has in common with screen printing, is that it is well suited to cotton. This means great prints on organic cotton products, while avoiding polyester. Some products do still print much better than others, so we will guide you towards what is most suitable for your brand.
Ideal for cotton, like screen printing.
First Print Sign Off
For the cost of postage (£3.95), we can send you the first digital print from your order. This gives you an opportunity to check you're happy with the product. Once signed off, we will then commence with the remainder of your units. This first print will come from your total order quantity, and is part of your main order.
Please be aware, we still requirement payment for the full order before this first print.
How Digital Printing Works
Digital / DTG (Direct to Garment) printing, is a relatively new method for printing onto textiles. It involves taking a digital art file and spraying it, line by line, directly onto a garment. It's much the same way you'd print onto paper at home, and uses similar (but much bigger) print cartridges.
It's much the same way you'd print onto paper at home, and uses similar (but much bigger) print cartridges.
Artwork Preparation
DTG (Direct to Garment) printing doesn't require any separation of the artwork colours like screen printing does. Assuming your art file is an acceptable resolution for details, it will be suitable for print. We will simply convert it into a file type that our digital printer understands.
Check out our Resources find out more about file prep for digital printing.
Close up example of CMYK dots create the Tiger digital print.
Pre-treatment of Fabric
There are some additional steps we have to make on our end to ensure your digital prints come out strong. Firstly, the design area on the garment must be 'pre-treated'. This process removes impurities from the fabric which may interfere with the digital inks. It's pretty essential step and has a significant impact on your print quality.
Once pre-treated, each t shirt is then heat-pressed. These t shirts are now ready to be printed.
Underbase for Coloured Shirts
In order to print onto coloured or dark t shirts, you must print an undercoat of white ink first. Your actual design colours are then printed on top. You will not see the white underbase on the final product – it is just to ensure your colours come out the way you'd expect.
The cost and ink volume of the underbase is also more expensive than the design itself. Therefore, printing on white t shirts is much more economical. You can compare this pricing below.
DTG Pricing
We generally recommend organic t shirt products for DTG services (more information further down this page). Aside from these products being better for the environment, they give a much better printing result. Below you can establish basic pricing for our digital printing services.
Garment Colour
Similar to screen printing, non-white t shirts require a white underbase to achieve bright prints. This adds to the cost, therefore white t shirts are more cost-effective (in printing and often also in the garment itself).
You can compare our digital printing rates below.
Print Size
Print rate is also determined by the size of the print you require. We've split this into three sizes. Below are approximate indications of the area you can expect from each size print.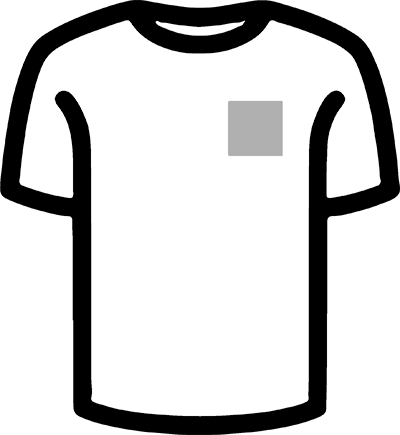 9cm x 9cm
Ideal for breast pocket designs and strap lines.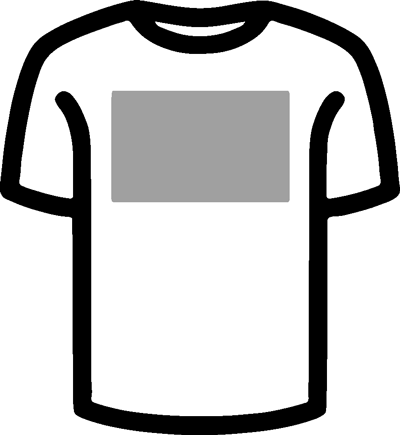 30cm x 20cm
Suitable for block quotes and medium size logos.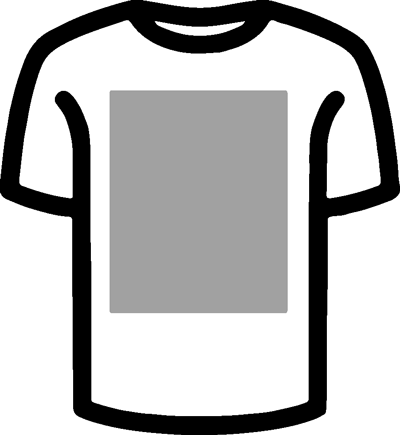 35cm x 40cm
Larger print size for fuller chest digital prints.
DTG Price Estimator
You can use the price estimator below to get an idea of cost for a basic digital printing order.
*Only available for repeat orders.
**Upon payment and approval. Turnaround dependent on full order requirements and additions.
Note: This price estimator does not cater for other variations or additional services you may require (for example, folding & bagging).
To receive a full quote, please get in touch.
Print Rates for Digital Printing
Below you can find our price per digital print (excluding VAT), without the garment or any other costs included. If you require additional print positions, you would add the print rate for each position required. Please note, we do not offer print only services – we must also supply the garments.
Print Rate on White T Shirts
Printing onto white t shirts is the most cost-effective option for digital printing, as it doesn't require an underbase to be printed.
Units
Print Size
9cm x 9cm
30 x 20cm
35cm x 40cm
1†
£18.00
£20.00
£22.00
2-9†
£7.50
£9.00
£10.50
10-24
£4.40
£5.40
£6.40
25-49
£3.30
£4.40
£5.50
50+
£2.40
£3.60
£4.40
Prices exclusive of VAT
Print Rate on Coloured T Shirts
Print rate for any t shirts that are not white (so includes black). The increased cost is due to the pre-treatment and underbasing required.
Units
Print Size
9cm x 9cm
30 x 20cm
35cm x 40cm
1†
£20.50
£22.50
£24.50
2-9†
£10.00
£11.50
£13.00
10-24
£5.60
£6.60
£7.60
25-49
£5.00
£6.00
£6.70
50+
£4.00
£5.50
£6.00
Prices exclusive of VAT
†Only available for repeat orders.
How to Place Your DTG Order
1. Pick a T Shirt
Pick a product that suits your brand and your budget. Keep in mind, that coloured or black t shirts will cost more to prints, as they require an underbase.
2. Prepare Your Art
We accept most file standard formats, including .ai and .psd. You should always supply art at the actual print size and 300dpi as a minimum.
3. Get in Touch
Send your requirements and artwork over to us. We'll quote up an accurate price for you and provide visual proofs before you commit to your order.
DTG Printing & Screen Printing Compared
Although these two different print methods can compliment each other, it's important to be aware of their differences. Screen printing is a long-established printing method that has been tried and tested for decades. It's ideal for large print runs as the printing is very quick, but requires significant setup. This setup can't really be justified for a very low run of prints. This is where DTG comes in – the ease of setup means that even one item is viable.
However, there are of course other factors. We have outlined these below to help you decide what service is most appropriate for you.
DTG Printing
How it Works: T shirts are fed into a large inkjet printer. Every colour and tone is made up using CMYK, much like paper printing.
Quick Setup / Low Minimums
Unlimited colours at no extra cost
Harder to Pantone Match
More ink waste and curing time
Slower per print
A modern, digital approach to textile printing. A relatively new and constantly developing printing method.
Screen Printing
How it Works: Ink is pushed through mesh screens into fabric. Each colour has it's own screen, and the ink is mixed by hand.
Perfect for large quantity orders
Clean, accurate spot colours
Wider range of garments offered
Pantone Matching available
More eco friendly of the two
Washfast
Softer, breathable prints
Most of the work is in the setup
Multi-colour setups can be expensive
This is our preferred method of printing, in which we have over 40 years of experience.
What They Have In Common
What you know you'll be getting, whichever print method you go with.
Waterbased Inks
Suited to Cotton
Excellent Prints
Can't Decide?
If you aren't sure which printing method suits your requirements, we can offer advice. We can also create quotes, so you can have a clear idea of costs.
The Best T Shirts for DTG Printing
We want to make sure we get you the best prints, so here are some brands we recommend for direct to garment printing.