Organic T Shirt Printing: should be just that, we have excellent T-shirt suppliers who deliver a sustainable organic product to us. Therefore it would be wrong to add a PVC print to these environmentally friendly T-shirts. All screen prints are made with water based inks, and plastic film positives are no longer used to create the screens.
Pthalate free inks are certainly an improvement on older plastisol inks, but still contain PVC. Is your "environmentally friendly" screen printer using plastic inks? You may be surprised by the answer. Tons of plastic enters the environment every year on the front of T-shirts. It is not recyclable.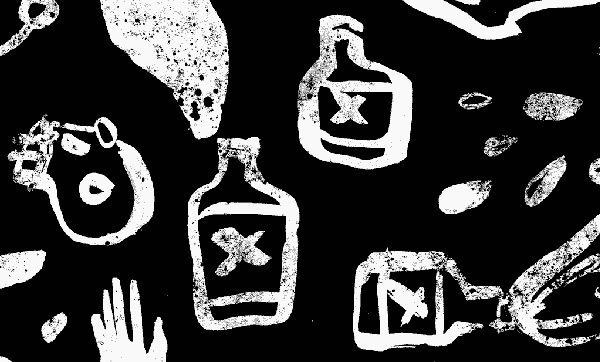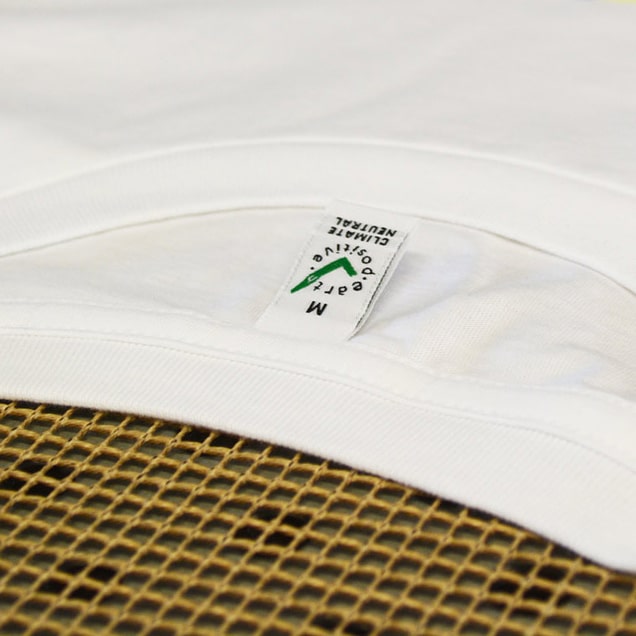 Organic Cotton
Ethical: Free from pesticides, and does not use synthetic fertilisers. The benefits are far reaching for those involved in the growing and manufacturing, as well as the end user. It is also free from GM (genetic modification). Some of the key benefits are outlined here.
Salvage
Recycled mixes: The content of these T-shirts can vary a little from one manufacturer to another. Generally the cotton content is organic, and pre-consumer. It will consist of cuttings from the pattern making process. It will usualy contain a percentage of post consumer polyester, from recycled bottles.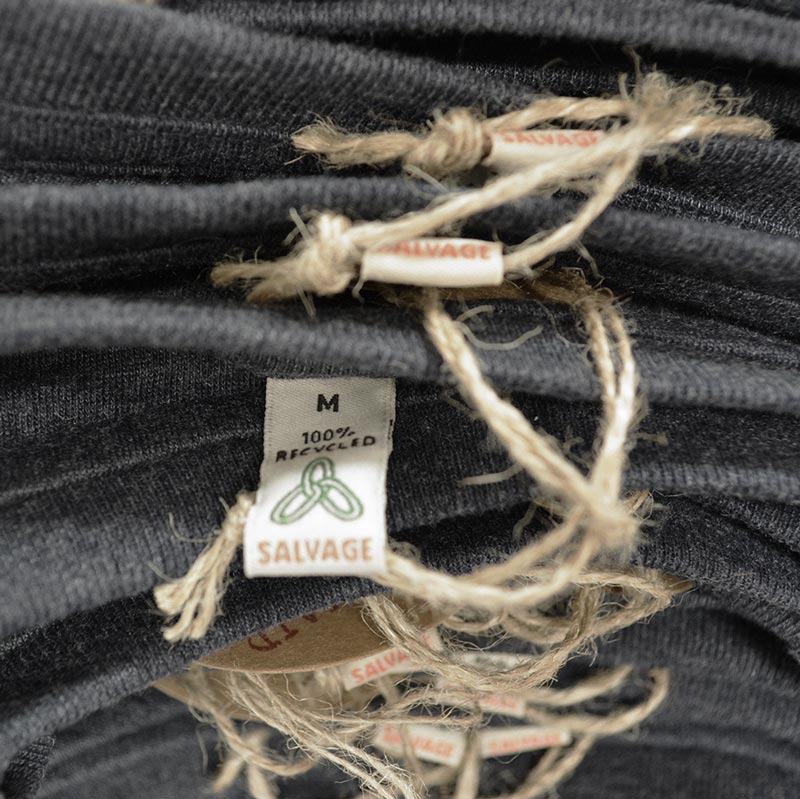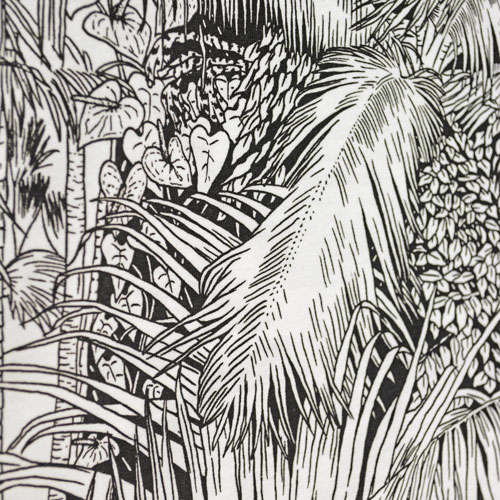 Natural Alternatives
Cotton Alternatives: There are often used as a percentage mix with organic cotton, and are mostly bamboo, hemp, and viscose materials. These all have their own pros and cons. Some have an intensive production process, but the finished T-shirt will be extremely durable. All these alternatives help take the pressure off cotton as a crop.
Please Note: Although our preference and recommendation (especially if you're a brand and looking for a high quality product) is for organic garments, we do also have non-organic garments featured on our website for customers whose budget may not be able accommodate these products.
If you'd like to only see our organic products, see the link below.
Choosing Inks and Print Styles
Waterbased Ink
A water based ink is made up of pigment, resin, and water. Other additives such as anti foam, and surfactants are also used. They are not entirely harmless/neutral in their make up. But they avoid the use of PVC, and solvents.
Water based inks are biodegradable, and if dealt with in the correct way, will release less harmful toxins into the environment than the plastisol alternative. When printing on to lighter coloured materials with darker pigments the resulting prints do not require excessive amounts of energy to fully cure.
Discharge Printing
The drawback with a water based ink is its lack of opacity, and one solution to this problem is discharge printing. Bleaching the colour out of the garment, before applying your water based dyes. This process requires higher temperatures in the conveyor dryer, but it does not require any flash curing on the press. The energy used to flash dry between applied colours when printing plastisol inks is significant, and in our opinion plastic inks should not be promoted as needing less energy to cure.
Note: Discharge works best on 100% cotton garments. For other fabric compositions, it's a good idea to get in touch with complete details of your requirements so that we can offer guidance.
Solvent-free Waterbased Printing
Waterbased printing with discharge process.
Ghost Fishing
Screen printing organic T-shirts for Surfers Against Sewage.
Want to know more about plastics in the environment?
Clean Environment for Organic T shirt Printing
Work Surfaces
It is important to keep work surfaces clean in a workshop which handles both organic, and non organic T Shirts. The few Soil Association Accredited workshops will still routinely handle non organic brands. They follow strict procedures to prevent cross contamination.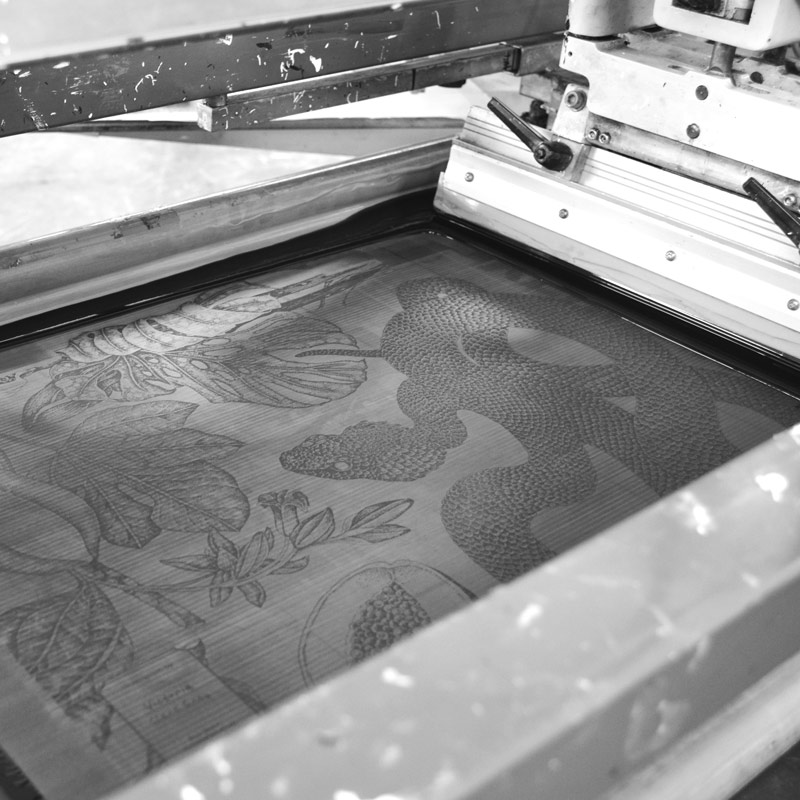 Machinery
Squeegees and flood bars can easily become contaminated by plastic inks, and leach toxins into a water based print run. We have a screen printing machine reserved exclusively for water based screen printing. T-shirt pallets can be re-covered to prevent transfer of non organic lint.
Air quality
It only takes a couple of hours to fill a screen printing studio with lint, and spray glue. We run carbon air filters to keep this air pollution to a minimum. We also use rollers to apply glue, rather than the more commonly used aerosol spray glues. We like our workshop clean.
Efficient No-Waste  Screens
We no longer use film in the production of screens for t shirt printing. The process of printing ink onto plastic film, which is then taped to a screen and exposed, has been replaced with a direct-to-screen system. This allows us to bypass any film usage at all, and saves consuming hundreds of meters of plastic film and sello tape every month. As well as reducing the time required and margin of error in the production of screens.
We have also converted our screen exposure system to an LED based one, to further reduce our power usage.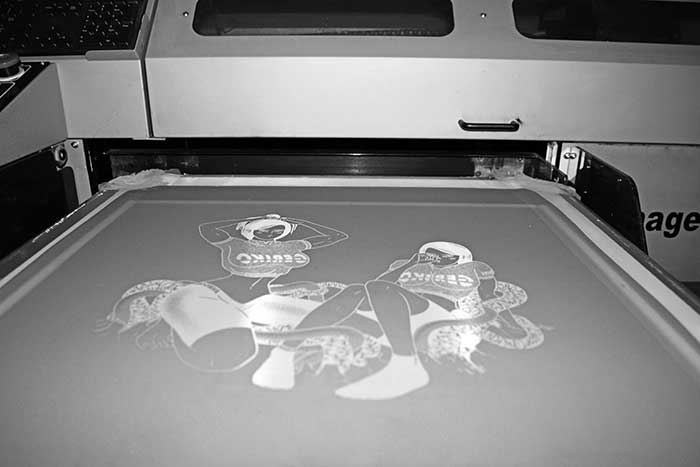 100% Offset Electricity
Every single kWh of electricity that we use, is contributed to the national grid from a renewable energy source. This means we do not contribute to the consumption of finite or damaging fuel types for our electricity.
Not only is our workshop powered by renewable electricity, but so is our company vehicle, which is charged exclusively from our premises.