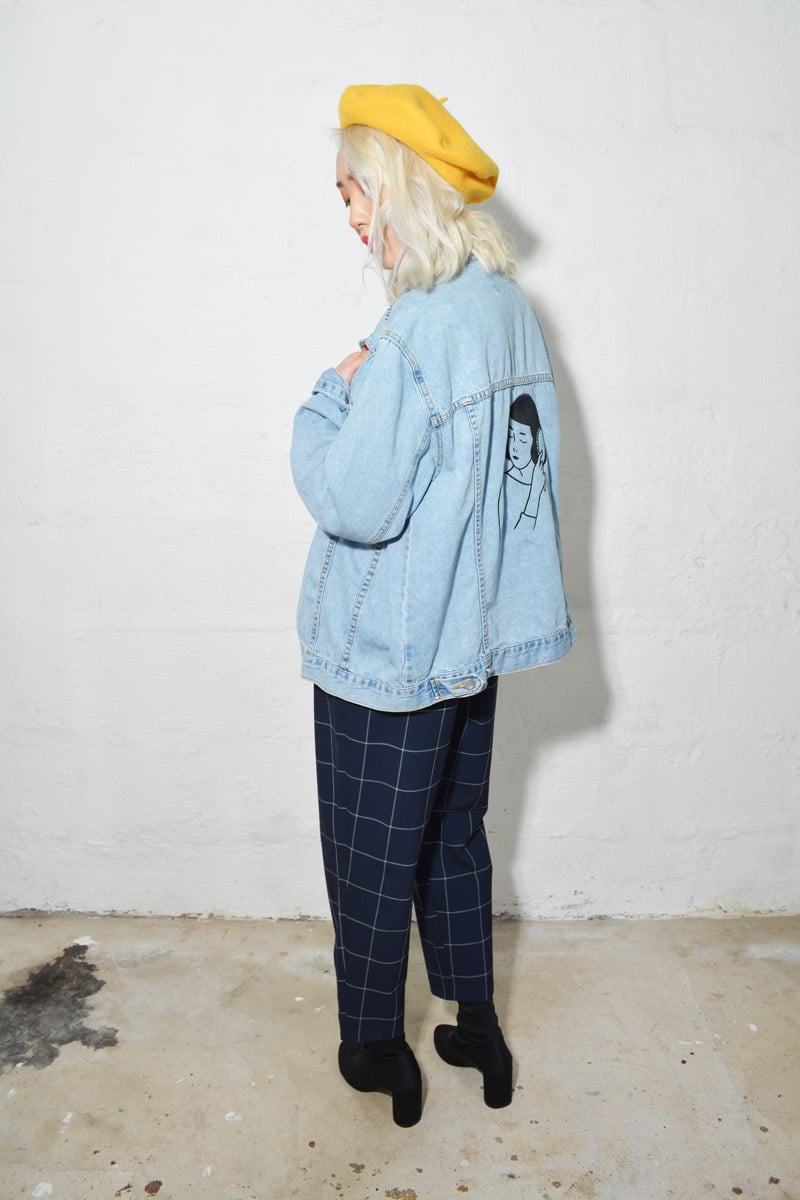 About our Collaboration Store
Our Collaboration store that supports independent artists but also supports fair and organic garment production.
We launched a new collection with artists Alxndra Cook, Victoria Clare Gray, Benny Brown, Cat Sims & Robbie Jones.
To follow our summer collection into Autumn, we've introduced our new vintage range featuring an assortment of embroidered denim jackets (brands including Levi's and Wrangler) with our best selling designs by Tallulah Fontaine and Alxndra Cook.
The jackets are vintage and the t shirts we use for our designs are Organic Cotton. You can use these garments for your order, we use EP01's and EP01L's t shirts.
Collaboration store designs are available here.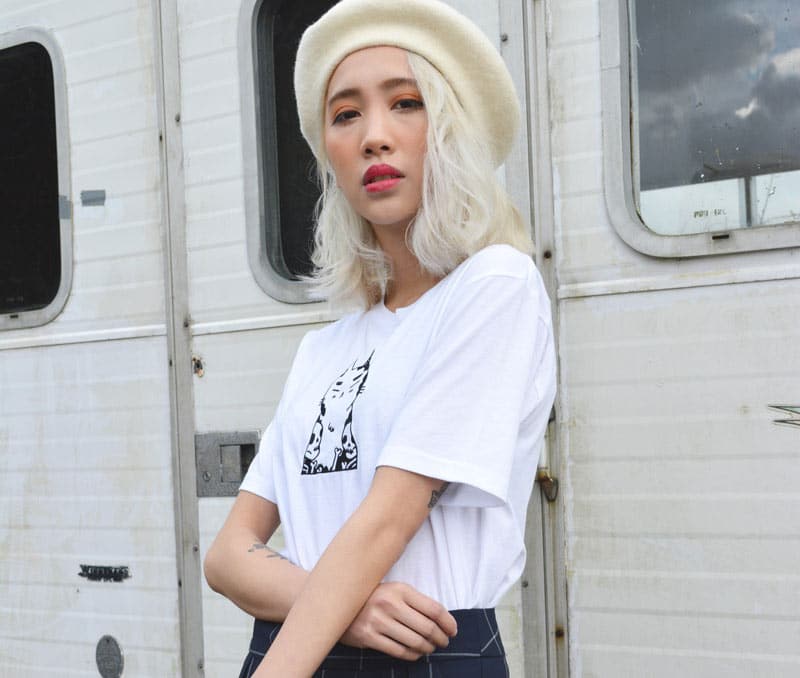 Artist: Cat Sims
Cat Sims is an artist based in London. Her work covers a broad range of mediums, from graphic design to comics and printmaking. She has worked as a freelance illustrator for over ten years' her recent clients include: V&A' Barbican, Sisters Uncut and STRIKE! Magazine.
Field Notes:
Summer, Cannibals, This one-legged giant, Prima Belladonna
Read her Interview here.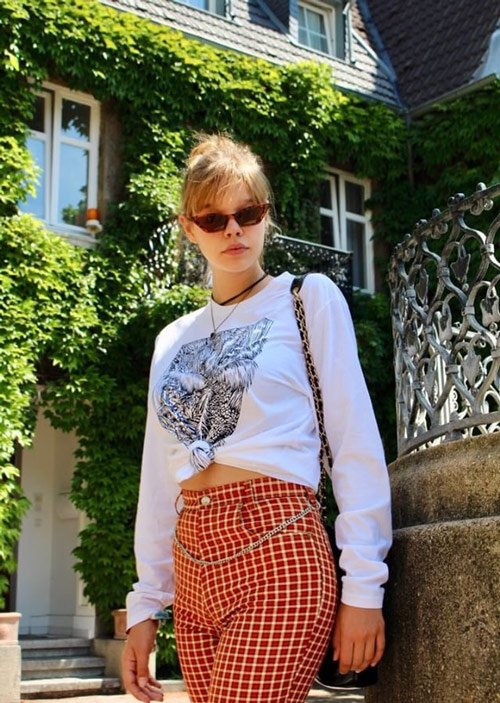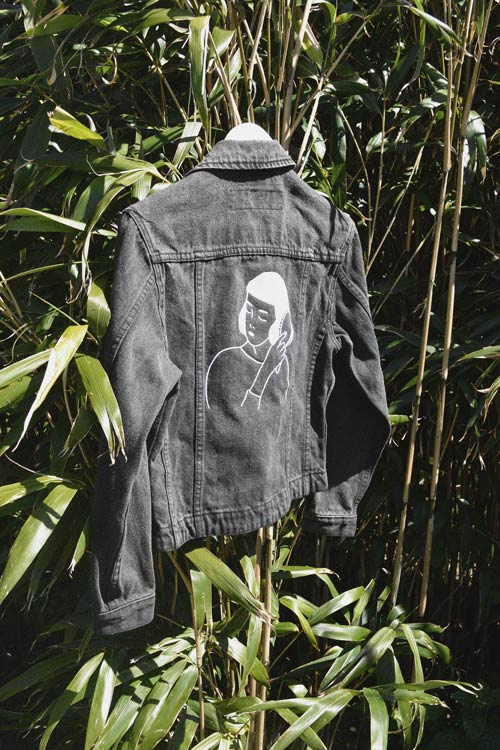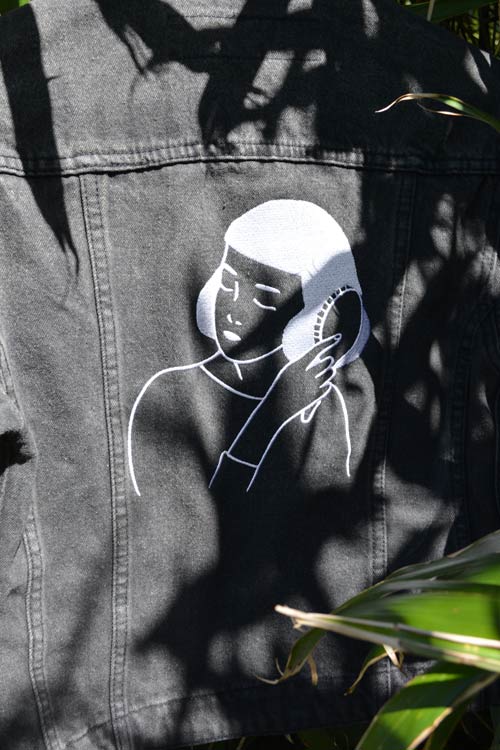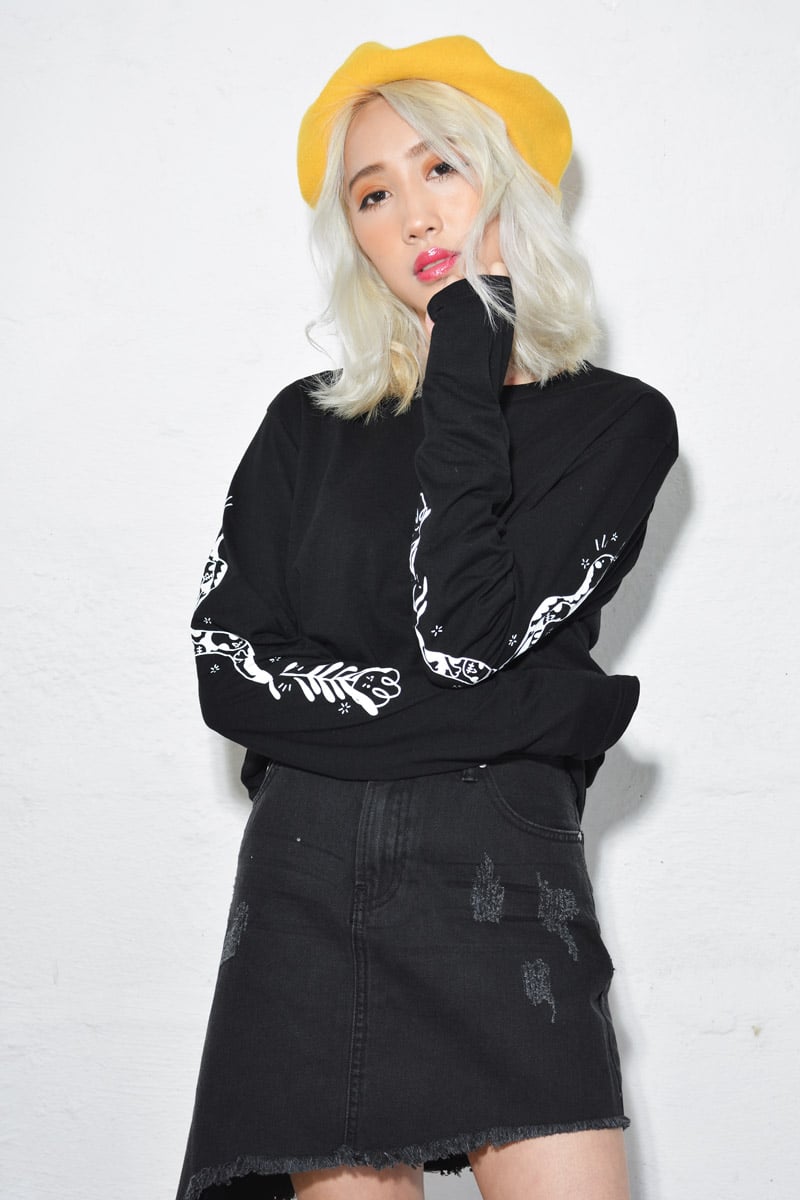 Artist: Alxndra Cook
Alxndra Cook is a London based freelance illustrator and designer with a background and degree in fashion and textiles. With an East meets West aesthetic, she in inspired by Japanese culture and "Kawaii". With an enjoyment of contrast; she mixes pop colours with child-like fun in illustrations that seamlessly blend to an overall minimalist aesthetic. Alxndra is one of the nicest artists we've had the pleasure to collaborate with – you can see her positivity and playfulness in her designs.
Field Notes: Low Light, Drink Tea, Watch Cartoons, Japan Loving.
Read her Interview here.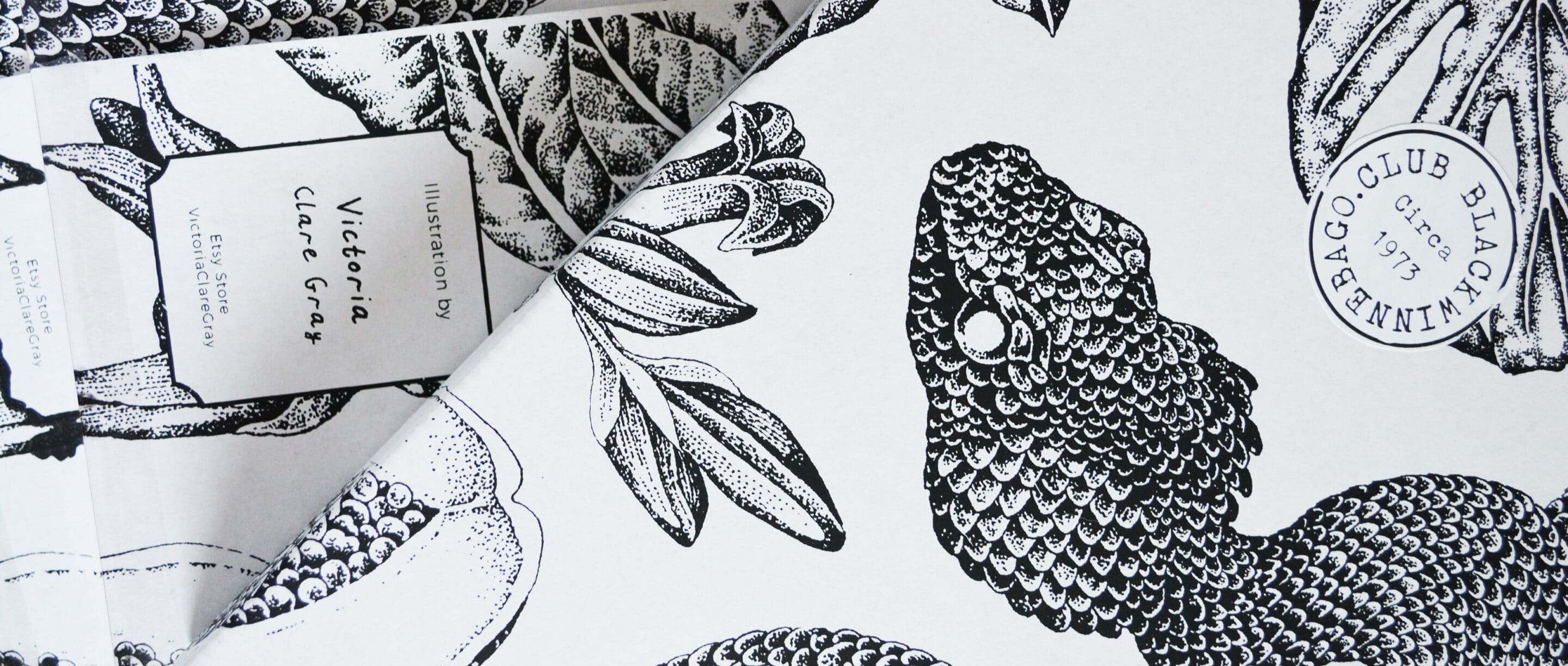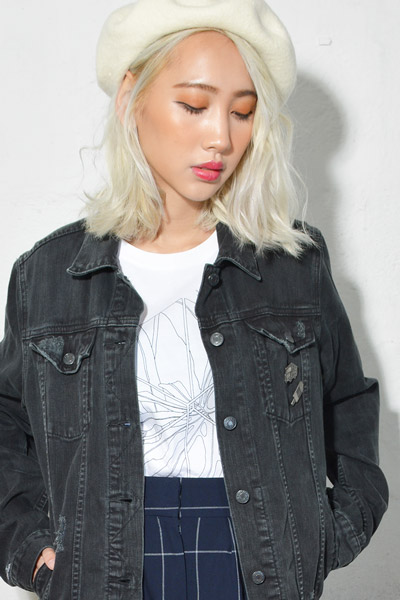 Artist: Victoria Clare Gray
Victoria Clare Gray is currently living in the Lake District, UK, with her plants.
She's always been attracted to intricate mark making but also hand-printed simple forms; offering contrast and balance.
Through her practice you'll come to realise themes of growth and abundance but also doubt and vulnerability.
Field Notes: Growing From nowt Do not touch
Read her Interview here.
Artist: Robbie Jones
Robbie Jones is an artist from North Cornwall, UK. He's known for his unique hand carved woodcuts, which are inspired by traditional tattoos and nature. "It's all these little imperfections and rough edges that give the final piece more character and personality."
Field Notes: That Old Time Feeling
Read his Interview here.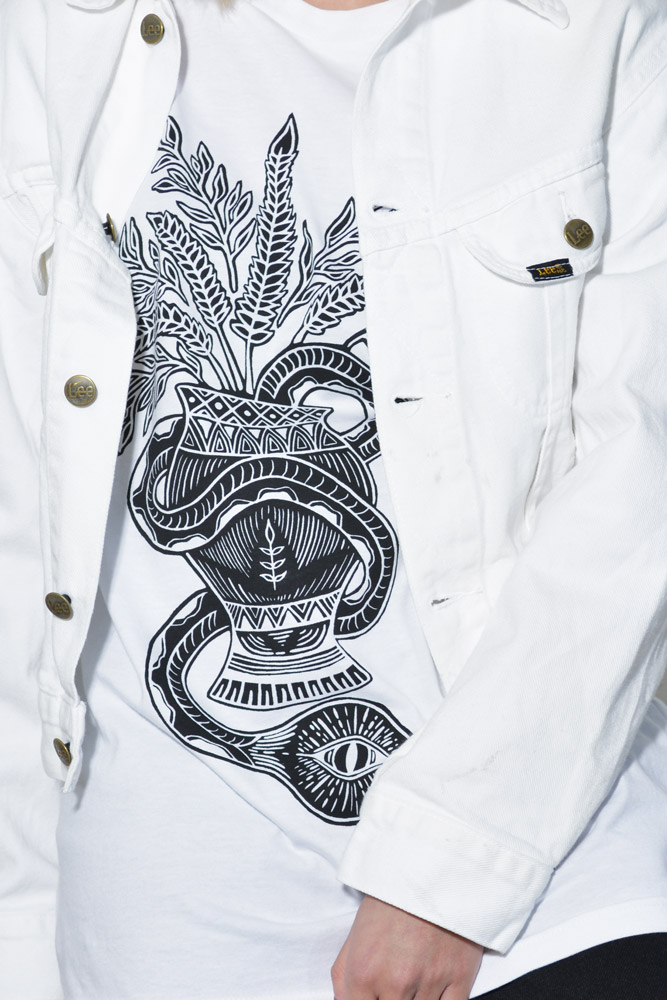 Artist: Benny Brown
Benny Brown lives in Ipswich. Skateboarding and drawing are the two main passions in his life. Drawing was his main focus from starting college.
Selling on Depop allowed him to keep doing it after he finished Uni – the app where he is now most known.
Field Notes: Wait til nightfall, Animals by night, Skate away
Collaboration store designs are available here.