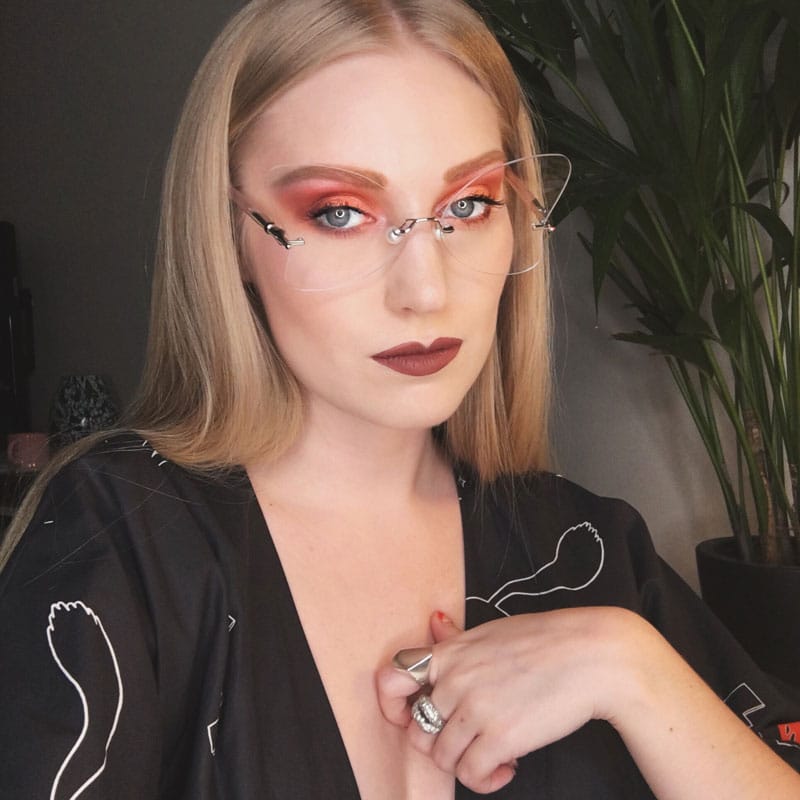 Alxndra Cook is a London based freelance illustrator and designer with a background and degree in fashion and textiles. With an East meets West aesthetic, she in inspired by Japanese culture and "Kawaii". With an enjoyment of contrast; she mixes pop colours with child-like fun in illustrations that seamlessly blend to an overall minimalist aesthetic. Alxndra is one of the nicest artists we've had the pleasure to collaborate with – you can see her positivity and playfulness in her designs.
"Tattoo Cat" design in black available here, "Tattoo Cat" design in white available here & "Hebi" design available here.
– I first came across your work when you were selling pins, patches and cards through Depop. How has your store progressed since then?
In those days I was a textiles grad turned illustrator just trying to get my work around and noticed a little. I wasn't all too sure what I wanted to do back then really. Depop was something that was offered to me and it was fun and easy enough to use! Now however, I think I am still not too sure what I want to do! Haha, I definitely have come a long way from my grad days and enjoying selling from a more personalised platform with my website. When I look back on that time to now, I know that my progression has always been a little bit of an experiment. I use my illustration as a foundation to have fun making different kinds of products with an aim to keep creating something fun for my followers. I guess I just love the process of creating and am still looking for the perfect product!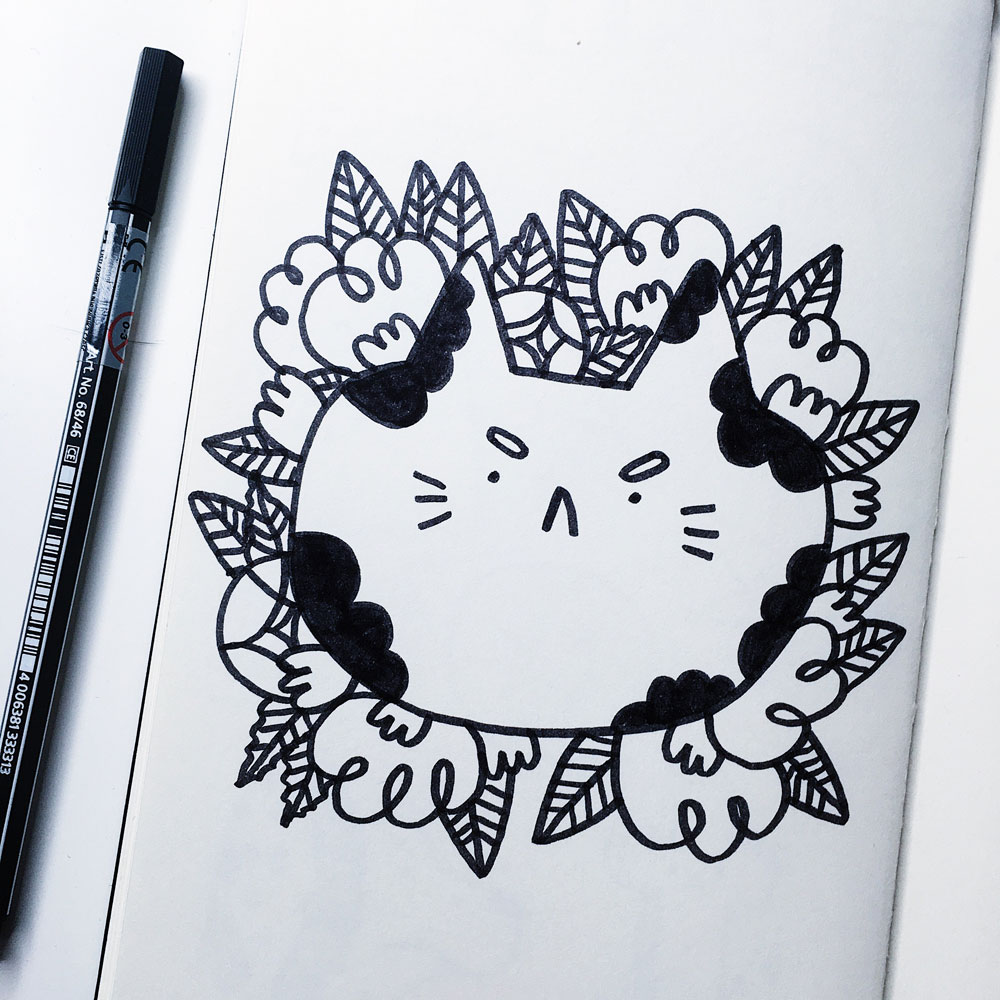 – Any tips to those wanting to create their own clothing designs?
Understanding of your client basis is important and so is concept building of your brand. I find that one the trickiest even now! But what I think is the most important is self belief in what you're creating. You can't just create things you think your clients will love in the hope they will buy. If you wouldn't wear it or fully believe in it, no one else will either.
– When did you start being influenced by Japanese culture? & why?
It feels like I have always been influenced by Japanese culture but I guess it probably stems from watching anime as a kid. It didn't take me long to discover the beauty it has to offer and dreams of visiting japan! I finally did a two week trip in 2016 and it definitely surpassed all my expectations! Two weeks was not enough! I guess because the culture is so different to ours, it feels like there is always something new to learn about. This appeals to me greatly and a little childhood love has turned into a full blown obsession as it seems to do for a lot of people! I long to go back there soon.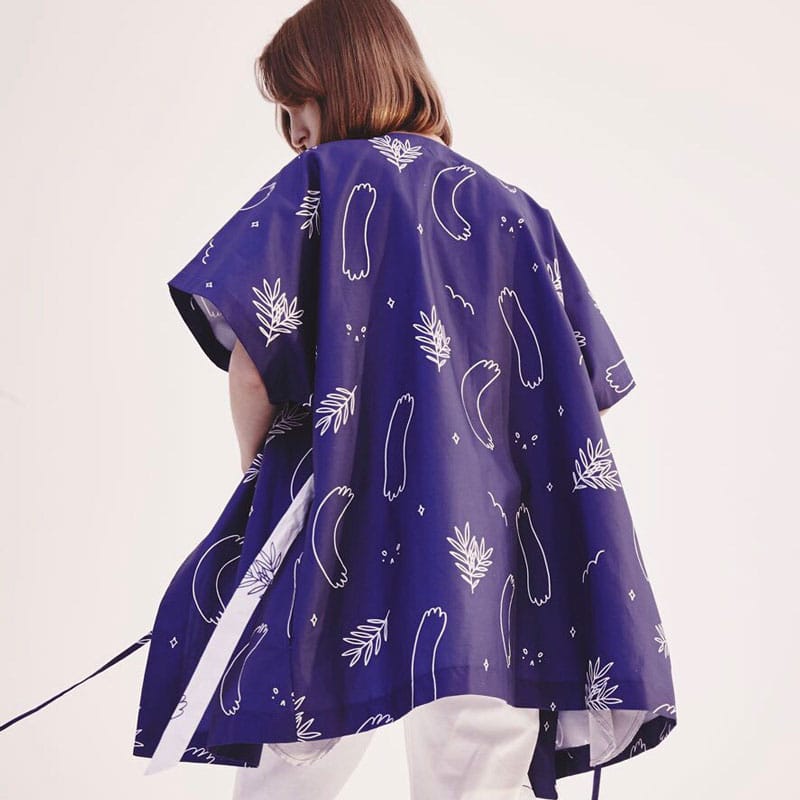 – What mediums do you use to create your work?
I like simple black pens, felt tips, fine liners or ink sometimes. The Pentel brush pen is awesome on the go and my favourite felt pen, which I use the most, is a basic Stabilo (pen 68). I tend to scan a lot onto my computer and make minor edits there. I haven't been using colour a lot recently but I tend to use colour simply, with the aid of photoshop or (more recently) procreate. I recently got given an ipad pro and would love to learn how to use it more as an extension to my work, with my wacom tablet too.
– We love that you also work for SABINNA and ZOOFAN. Do you feel it's a necessity to work alongside other projects whilst pursuing your own? & how do you keep on top of it all?
Working with others is not only fun but incredibly rewarding. It is really great to come in on someones elses passion project and feel like you are a part of something else/helped in some way. I enjoy the aspect of taking their vision and putting my tiny stamp on it too. That especially feels like a big honour to be wanted in this way. Above all I love working with ZOOFAN since it is my boyfriends project. We live together and are always talking about each other's work and how we can both improve, so it's nice to work together. It sometimes feels no different from working on my own projects. Yes, at times it can feel all consuming but working freelance just does that to you anyway.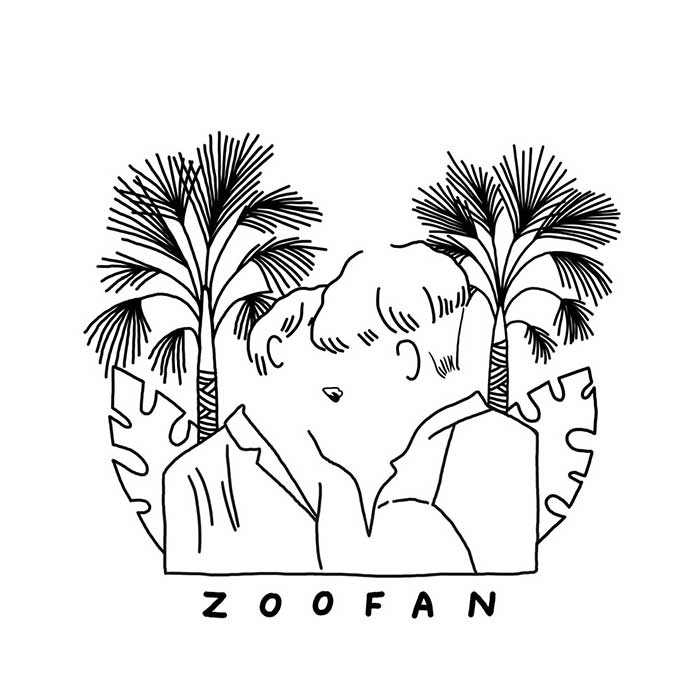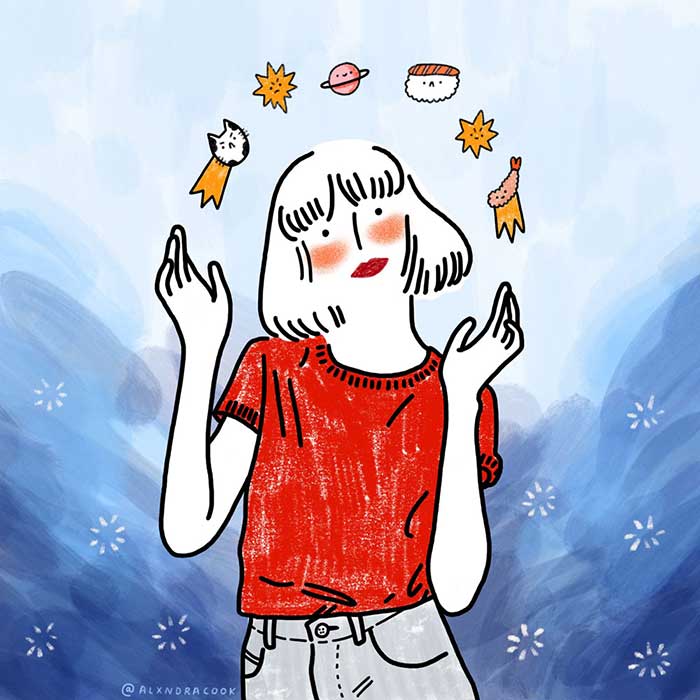 – Every time we speak you're very excited and very kind, how do you stay feeling positive? Any secrets? (Because I find keeping that energy very tiring)
Thank you! I guess I am super glad to hear I always come across this way also because that isn't always the case! I believe that just because you are having a bad day, there is no need to put that negativity on others. Actually as someone living with anxiety, attempting to stay positive is definitely a daily struggle sometimes. It's probably why a lot of my work does try to communicate or promote positivity. It's just a way for me to try and remind myself and others to worry less and be happier. Also I hate how written emails can come across bored or rude, I try and avoid that at ALL costs!
– What inspired you to draw your illustrations for us?
Tattoo cat is obviously heavily inspired by Horitomo's Monmon cats. It's something I have been meaning to put my own spin on for a while now.
The Hebi (snake) long sleeve design is just something I draw frequently. Snakes always seem to crop up in my work. I like them, for some reason I find snakes kinda cute.
– What are you doing when you're not working?
Definitely relaxing in some form or another! Watching anime, chilling at home with my boyfriend and cat, watching movies, playing video games. If it isn't too cold and rainy outside I also like to go out, get ramen with friends and visit art galleries. The Victoria & Albert Museum is my favorite.