Spring / Summer 17 Box Design | Jürg Lindenberger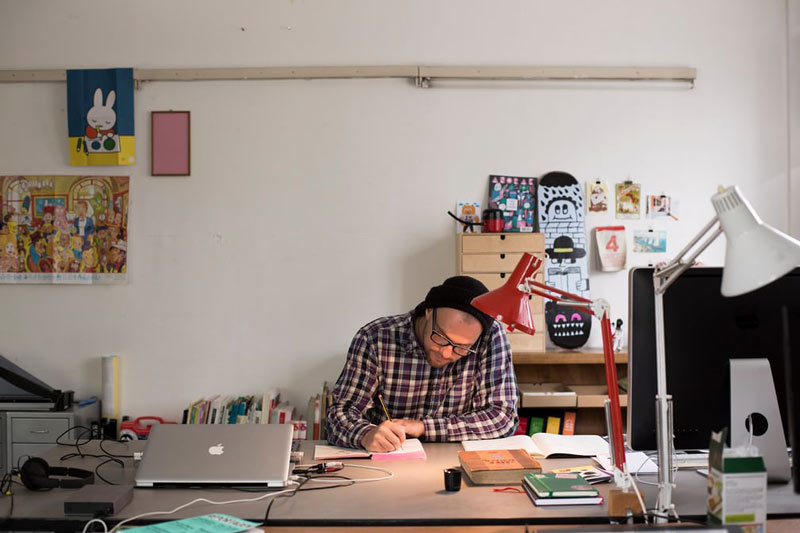 50 Screenprinted T-Shirt Deal – Sent in his screenprinted illustrated box.
ARTIST: JÜRG LINDENBERGER
CONTACT/ WEBSITE
– What was your inspiration for the box you designed for us?
I used mainly sketches I did for older projects and then added a few new elements to give it some coherence. So there was not too much thinking involved in the design process which sometimes is really nice 🙂
– Which is your favourite character?
I like the dog on skateboard a lot. Also the little sad box guy is quite cool I think. I love the dude with the tennis racquet as this was just a very loose doodle I scanned and reworked. Generally I love to work with really loose doodles, stuff that just happens without trying to achieve something.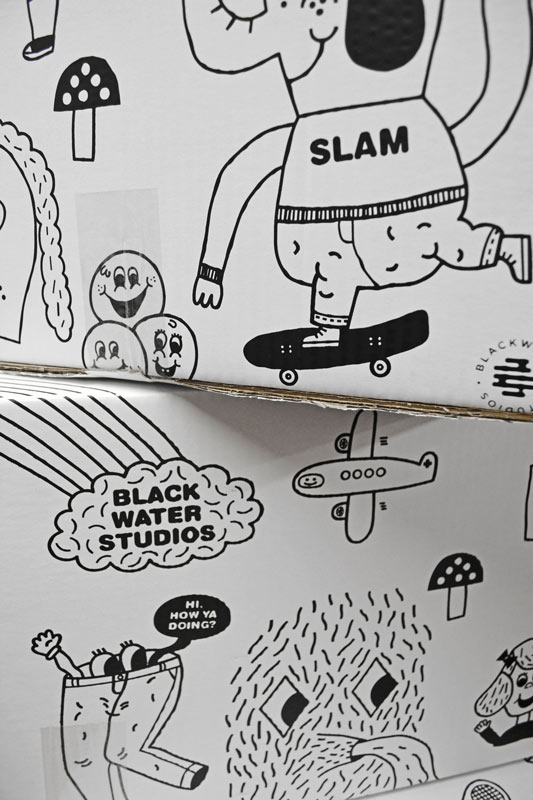 – What is the art scene like in Basel, Switzerland? I have some friends from skateboarding who also do illustration and a bit art. So that's mostly the people I talk about design and art or I do collaborations and exhibitions with in Basel. There are a few artist in Basel who's work I really like, like Eddie Hara who always wears cool band t-shirt and Remo Keller who's in a band called Denner Clan. The both do really cool stuff. – Do you have any crazy stories about your kids? I think my kids are both crazy since birth and I didn't had too much peace and quiet in the last few years. They are just two crazy beans, dancing to supermarket music or getting naked if they spot a little bit of water for example. What I really love is going out in the park or the forest near where we live with them and explore our little world. For my older daughter I attached her a little handlebar to a Stereo vinyl cruiser skateboard and sometimes we do some downhills together and skate a little bowl in the Kannenfeld park nearby. That's so much fun! Nevertheless I have to make sure she doesn't go to fast or down steep hills. She's only four years old and somehow doesn't give it a second thought of what could happen if you go too fast 🙂