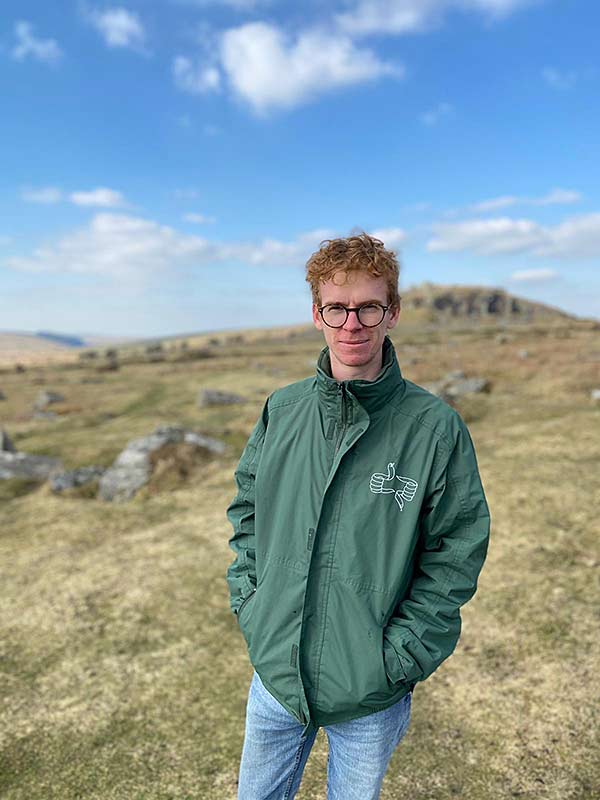 Michael Brown
Hi, I'm Michael Brown and I drew the 'Cube Butt' design haha. Originally from Weymouth, now living in Cornwall.
My drawings are mostly of structures, buildings and stuff like that but I do like the outdoor green spaces, i just can't draw plants too well haha.
– Firstly, what is up with all these cubes?
I know when it started but I don't know why hahaha. It started early in 2019 and then just gradually snowballed and got more complex. I really like tricks you can play with isometric views though, you can add a simple line and it completely changes the direction your eye follows.
The cubes are basically a big experiment with no real end goal.
– It is pretty easy to get lost in your tiny worlds – are these miniature landscapes inspired by any specific place in the real world?
No hahaha nowhere in particular, I'd get quite queezy if I ended up somewhere like what i draw haha. I've done a few drawings and am working on a couple projects which are based on real places but i'm a stickler for drawing things to scale which can be a hindrance! It can take upto 2 hours to draw a staircase if im drawing from somewhere real.
Making up spaces is easier as you can make it look however you want, if a line goes skewiff you can just roll with it.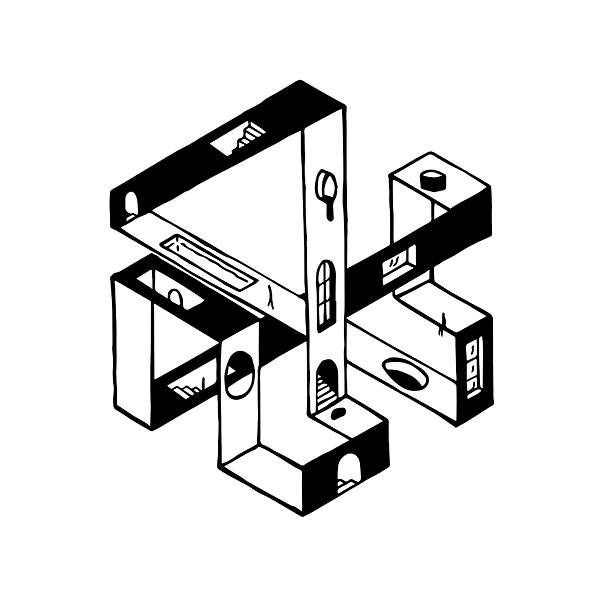 – I understand you are an architect – how does your technical training affect your art, and vice versa?
Yeah, Architect Technician. I guess that's why I'm drawn to drawing buildings and spaces and cubes! During school i mainly drew stupid little caricatures and doodles. Me and my friends had a game where we'd draw a wobbly line as the ground and then pass the paper and take turns to draw stuff. It was mainly guns and fight scenes and stuff like that hahaha.
Then at Uni we had to draw everything by hand in first year, I still drew doodles but then the doodles became more geometric rather than cartoons. But yeah even simple things from my technical training like drawing window sills and making things suitably sized has definitely followed through to my drawings.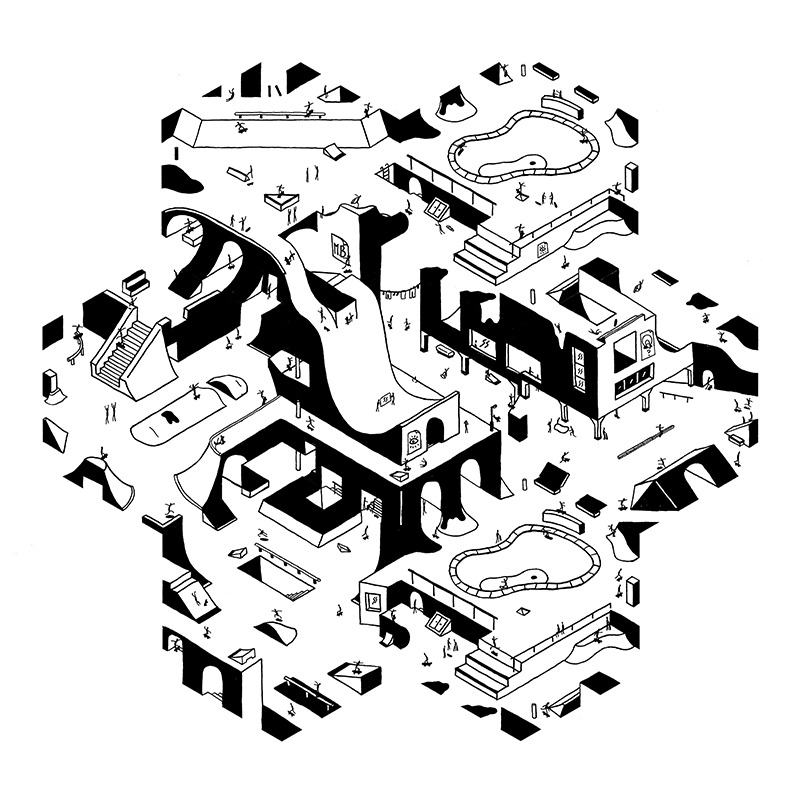 You are a sk8tr boi, correct? Was there a specific moment of inspiration for your 'noseslide' wax?
Ahaha well last year I was working at a bar and every night they chucked away the old candles so I thought I'd collect them up and make skate wax. I used to make skate wax loads as teen, i also had a bit of knowledge of using silicon to make moulds so thought I'd give it a go.
Originally the wax was going to be a little puck with a snake on it but it was really fiddly, I started just mashing the clay and it sort of looked like a nose. My mate Gaz was in the room and straight away said 'you should call that noseslide wax' and it was such a good name that we had to stick with it!
I know you work primarily with ink on paper – are there any other mediums you would like to explore in the near future?
Yeah! Be good to give it all a go really! But if i had to pick one it would be stone carving! I like the idea of learning how to do stone carving and then going rouge and doing sneaky little stone carvings in funky places haha
I see you also DJ on occasion. Tell me about what I can expect to hear at one of your gigs!
All sorts really! I try keep it funky and fun hahaha I often play at The Nook Cocktail Bar in Weymouth which is normally full of disco and funk classics, with some reggae, ska, soul and some more recent groovers.
I love this new wave of techno-ey breakbeat coming out from artists like Lone and Special Request. But it can be quite tricky mixing in that stuff with Disco! I think the audience would get freaked out hahaha. It could be done, just have to get it right and in the right place!
If you came to one of my gigs you can expect to hear some groovy classics and some big beefy sounds!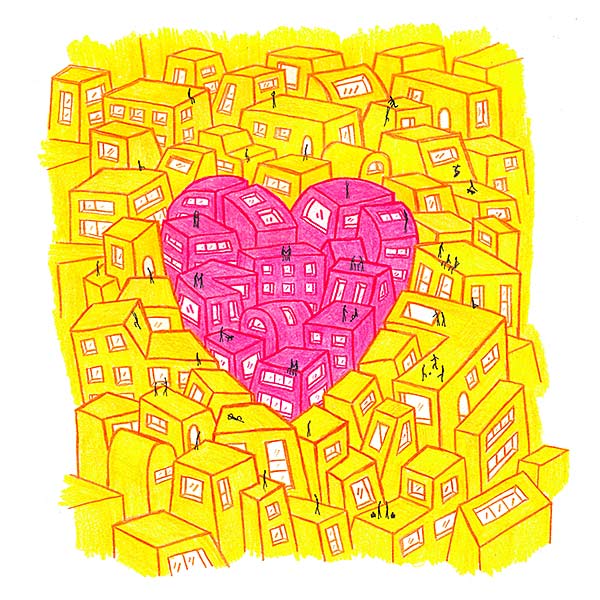 Not really a question, but you should illustrate a 'Where's Wally' type book!
Yeah that would be pretty cool!
Are there any interesting upcoming collaborations or projects upcoming that you would like to tell us about?
Yeah got a design coming out soon for TR7 Skate Shop in Newquay which is pretty cool, it's based on some real world places and should be available within the first half of 2022.
I also had a long video call with my friend in Bangalore to produce a cube city based on Bangalore! Was meant to do it last year and get it to him in time for his wedding but I'm really bad with time management! It will be a delayed wedding present hahaha 
Having a little look at NFT's too but that's kind of on the back seat, it's a noisy marketplace
Also Cube Butt, cheers for having it on your tees!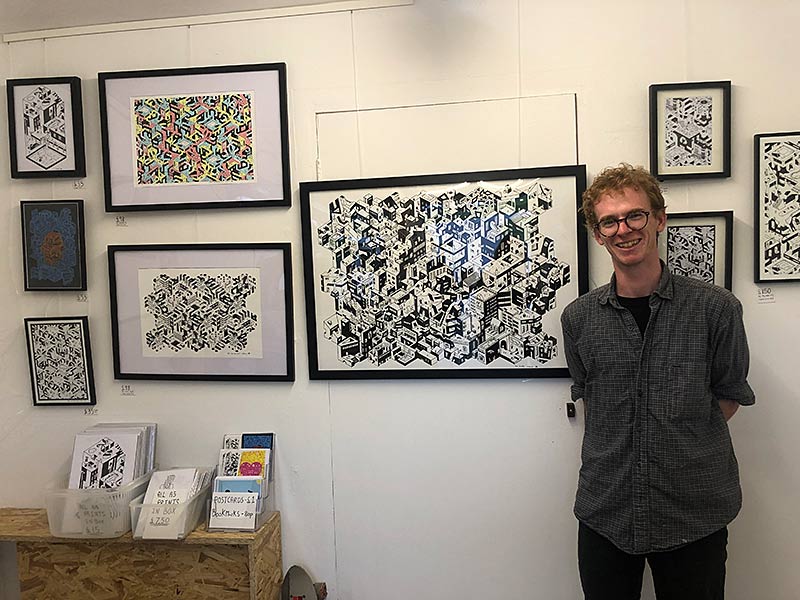 Skater Butt by Michael Brown (White Tee)
Skater Butt by Michael Brown (Black T Shirt)