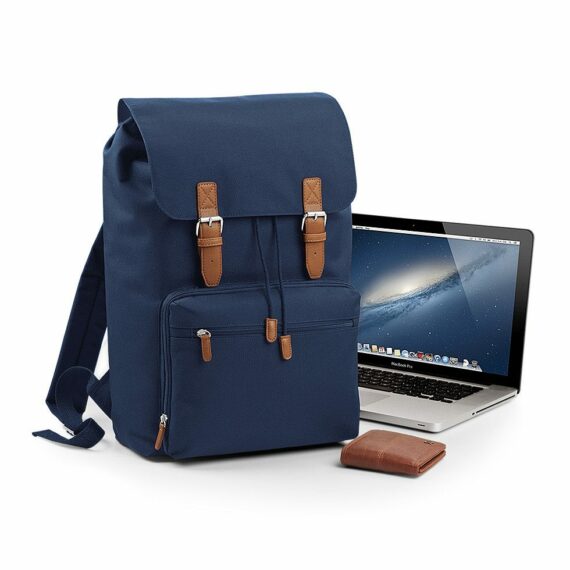 BG613 – Bagbase Vintage Laptop Backpack
Product Sizes
This product comes in one size.
---
Material: 600D polyester.
Laptop compatible up to 17″.
Padded laptop compartment.
Padded adjustable shoulder straps.
Padded back panel.
PU and metal accents.
Magnetic closures.Grab handle.
TearAway label for ease of rebranding.
Capacity 18 litres
Get a Quote
Looking to Sample Blank Products?
If you're looking to use our customisation services, we recommend ordering samples of products to make sure they fit your requirements. If there's a product you'd like to see, get in touch.
---
Product Colours
Below are the available colours for this Bagbase product.
Please be aware, sometimes brands may discontinue colours without notice. If a particular colour is important, please contact us to confirm it's availability.
---
Add Custom Embroidery
1. Pick Embroidery Size
Personalise this product with embroidery. We can stitch this product in the following locations:
Note: Consider whether the size you pick will make any elements too small. See the next step for more information on this.
2. Consider Small Details
To stitch your design, we will have to digitise it. This embroidery process converts your design into a stitchable file. However, there are limits to small details with embroidery:
Height of Smallest Text Character:
No less than 5mm tall.
Smallest Gaps: No less than 1mm.
Elements that are too small, may need altering. Or you can revisit the first step (picking size).
3. Get a Quote!
Send us your art and product requirements. You can do this via our quotation form.
We will send you a demo mock up of your products, along with a sales order to approve and sign off. A digitisation proof will also follow, so you can see the design as it will be stitched.
Receive goods as early as 5 working days from approval and payment.
Get a Quote
To display our pricing tables for this product, please try viewing this page on a larger/wider screen.
The screen printing prices below are per unit, and approximate.
They are based on a single screen printed position only.
Remove garment cost to price each additional print position.
Please provide artwork with your enquiry for an accurate quote.

For first time orders, generally all boxes will need to be checked.

Quantity
Number of Printed Colours
Prices shown above are per unit
Note:

Unless otherwise stated, 2 colours is the max colours for less than 50 items.

1
2
3
4
5
6
7
8
25 - 49
£

17.43

N/A

N/A

N/A

N/A

N/A

N/A

N/A

50 - 99
£

17.43

N/A

N/A

N/A

N/A

N/A

N/A

N/A

100 - 249
£

17.43

N/A

N/A

N/A

N/A

N/A

N/A

N/A

250 - 499
£

17.43

N/A

N/A

N/A

N/A

N/A

N/A

N/A

500 - 999
£

17.43

N/A

N/A

N/A

N/A

N/A

N/A

N/A

1000+
Contact us for a quotation on 1000+

The embroidery prices below are per unit, and approximate.
Please provide artwork with your enquiry for an accurate quote.
Embroidery setup charges apply for each new design (at £15.00 + VAT).

For first time orders, generally all boxes will need to be checked.

Quantity
Stitch Count (Up to 35,000)
Prices shown above are per unit
3K+
6K+
10K+
15K+
20K+
25K+
30K+
4 - 9
£

17.43

£

17.43

£

17.43

£

17.43

£

17.43

£

17.43

£

17.43

10 - 49
£

17.43

£

17.43

£

17.43

£

17.43

£

17.43

£

17.43

£

17.43

50 - 99
£

17.43

£

17.43

£

17.43

£

17.43

£

17.43

£

17.43

£

17.43

100 - 199
£

17.43

£

17.43

£

17.43

£

17.43

£

17.43

£

17.43

£

17.43

200+
£

17.43

£

17.43

£

17.43

£

17.43

£

17.43

£

17.43

£

17.43