Select pre-set canvas size or create custom size
Getting started with Procreate
How to use Procreate for simple print designs
We've created a simple demonstration for those wanting to try Procreate, showing the use of basic tools, brushes, image files, colours and layers.
We're asked frequently for alternative software to use when creating illustrations for print. For those that don't want to use Photoshop or Illustrator or are just starting to create illustrations for the first time, Procreate is a good affordable option which you can use on your IPad wherever you go.
For those that also use Photoshop, you can work alongside the two. Procreate files can be exported into PSD files with layers still intact.
Before you start, read our FAQ page about size, inks and common artwork issues.
Custom Canvas – Create your own size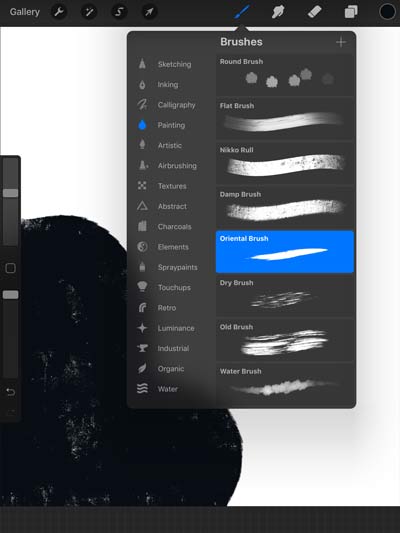 Selection of artist brushes
Procreate is an app for creating digital drawings and paintings. You can find a diverse selection of different brushes, from the simple sketch brush to Calligraphy to textured charcoals. All of these brushes can be used in any colour. Use the Brush Size tool to change the size of any brush, and use the Brush Opacity tool to create additional layers and gradients.
Once you become familiar with the vast selection of brushes and how to use them, you'll be able to create any illustration and painting. My simple example is created using my finger tip, but you can go into great detail with a Stylus Pen.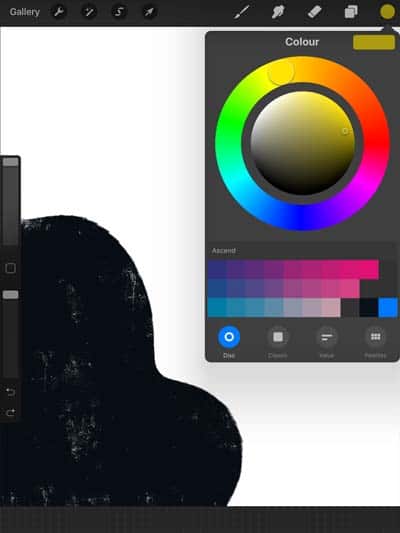 Colour selection for brushes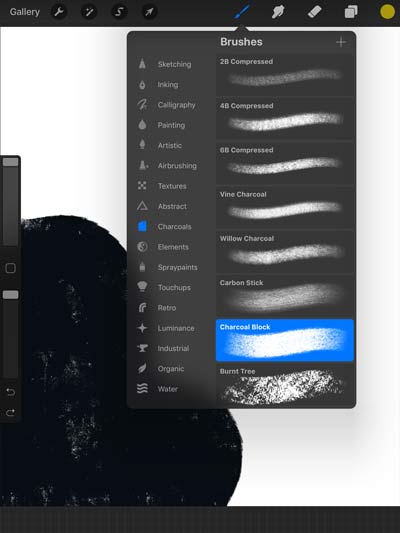 Additional brush textures
Additional colour choices –
Hex codes & Pantone Colours
There are four ways to choose which colours you use through Procreate. One option allows you pick a colour which creates a Hex Code. While we don't use Hex Codes for printing, we commonly receive these from customers as a reference. Hex Codes are best for web design and not for print. We use Pantone Colours for colour accuracy for printing your design. Picking Pantone colours isn't available yet on Procreate so we recommend you pick colours you like and then match these colours using a Pantone Book. You can read more about Inks & Pantones for printing on our FAQ Page here.
Image & Text editing options
The one downfall of Procreate is that you cannot type text, so this app isn't best for creating text based logos. You can add files and images, these images are placed onto a different layer. So, text can be added to your artwork as an image, which you can then edit and distort like you can do in Photoshop. These editing options are similar to Photoshops Liquify filter.

We see a lot of logo designs with added texture. This app makes it easier than ever to add these effects. You can use the rubber tool and choose the type of brush stroke you'd like to apply to your logo or text.
Rubber tool – Brush Effects