Jim (AKA Jimp)
Hollingworth
Artist Feature
Intro
Jim Hollingworth (aka Jimp) was born in Cornwall in 1979. Jim is based in both London and Cornwall working as an artist and illustrator. Heavily influenced by skateboard art, comics and poster art, his work spans across themes of the sublime to the absurd and approaches drawing in a journalistic manner. The instabilities and complexities of modern life are examined through a curious and captivated mind.
While Jim's work retains an adolescent voice reminiscent of doodles on a school desk there are some philosophical conundrums highlighted which we all encounter. Jim produces a prolific and varied body of work including disciplines such as live performance, murals and record sleeves. Jim's work has been shown internationally and included in The Saatchi Gallery, New Art Gallery Walsall and The Barbican Centre as well as included in various international collections.
Previous clients include: Vans, Slut Clothing, Gavin Turk, The House of Fairy Tales, Shels Music, Modart Magazine, Method Magazine, and Eyesofsound Records.
Interview
– So is your name Jim, James or Jimp?
Jim: Well, my name is James, my mother calls me Jamie, my friends call me Jim, but my art name is Jimp, I thought it would add a sense of intrigue. Is that confusing at all?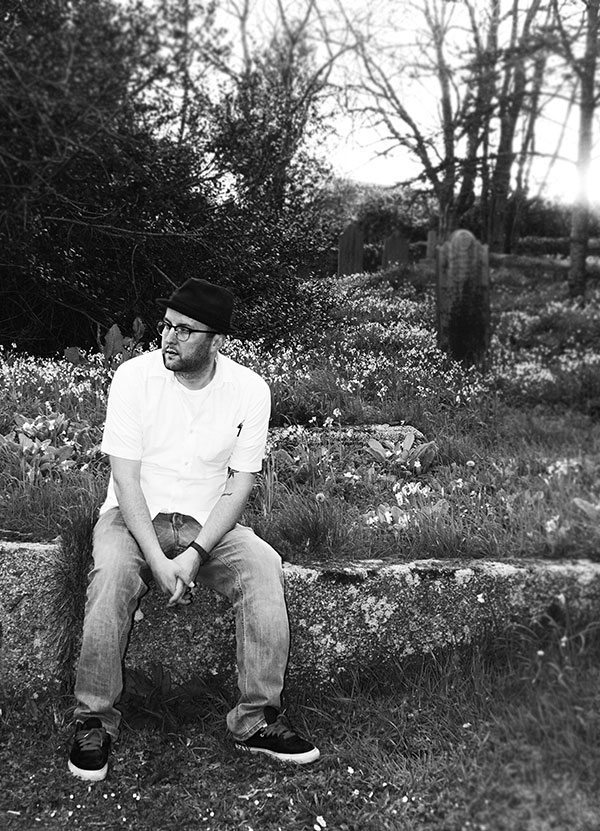 Jim Hollingworth
– What do you think of the definition of Jimp in the free dictionary? Would you describe yourself as neat, handsome and elegant? Or scant and barely enough?
I think I'm pretty much neat, handsome and elegant, oh I'm also barely enough, hey that is the best description of me, never looked it up myself, glad you didn't mention the other association to do with the guys from Lonely Island which people often think I got my name from.
– The philosophy of the constant search for meaning and reason was the reasoning behind your work, do you feel you've got any closer to finding this?
I think we are all searching, every day and to decide to be an artist you always try to find something new to feed from, it's a kind of journey of personal mythology. I read a lot about philosophy, nothing really gets you any further, but it does help you question the way you live and do things, which is important to me. If I have got further it's only to help find the place I am already in, more grounding, more reassuring.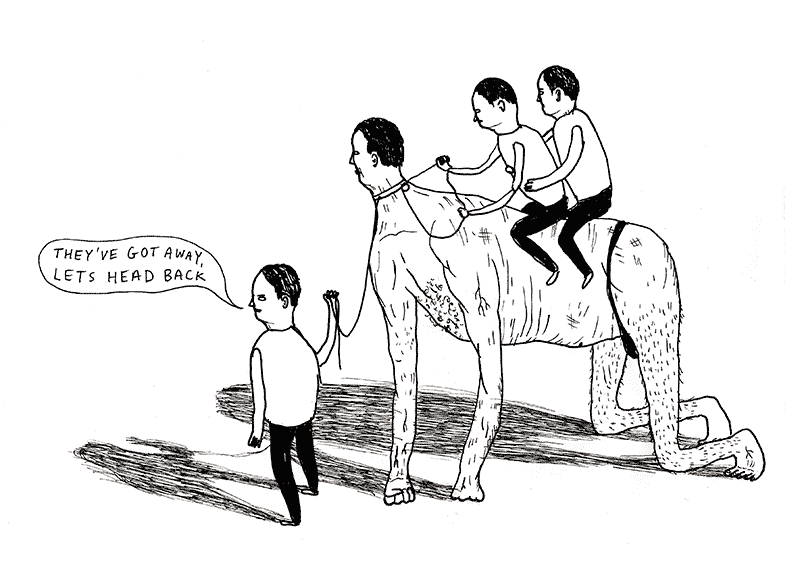 – The two boys who are riding the man, what got away?
I see this drawing as a film still, I don't know what got away, I enjoy provoking imagination in others, so 'they' could be anything. I particularly appreciate horror films when the baddie is never seen because it inspires my imagination to create a personal monster, so I hope that someone can draw from this a personal narrative. Often I will start a drawing with just a caption and see what happens.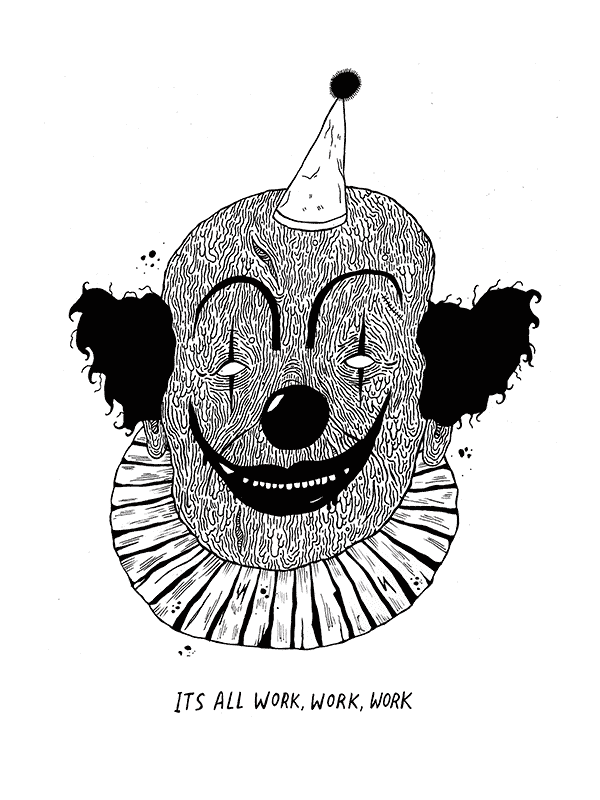 Life As We Know It
– Your work is pretty dark, is it a representation of how your mind works? Should we be worried?
I think we're all dark really, a bit, sometimes? This is my way of not being a threat in the community, that's where art works as therapy, you can draw what you like and it helps you feel sane again, and then you can walk into real life a normal person having released all your demons and stuff.
…art works as therapy, you can draw what you like and it helps you to feel sane again…
– Where do the titles and ideas of your work come from?
They come from my head, well that is to say they come from the things that are in my life that stick with me like captions to a comic book or song lyric. The titles mostly come first and then I just do the best with my time to illustrate them. It's the absurdities and oddities in modern living that I tend to lean towards for ideas. I enjoy drawing in a stream of consciousness kind of way and the more tangible ideas end up as more resolved drawings I guess. But quite often the words are as important as the pictures.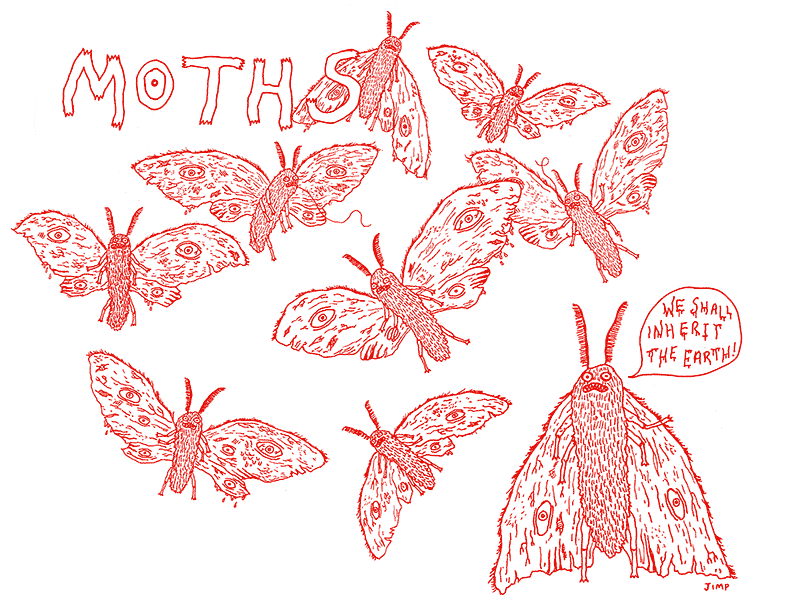 They Shall Inherit The Earth
– If moths were to inherit the earth, how would they do it? And why?
They would slowly think nobody is noticing them as they get slightly bigger and more intelligent, developing rapid physical mutations from moonbeams, then one day they telepathically connect their minds to rise against humanity fluttering all crazy in everyone's faces and spitting acid bile. Well it's just that I have a phobia of them and their little fury bodies creeping around at night small enough to get in your mouth and ears. But also they have had a hard time, they aren't very loved so I also sympathise with them as outsiders, that's why they take revenge.
Oh gosh a horses body and mans head for sure…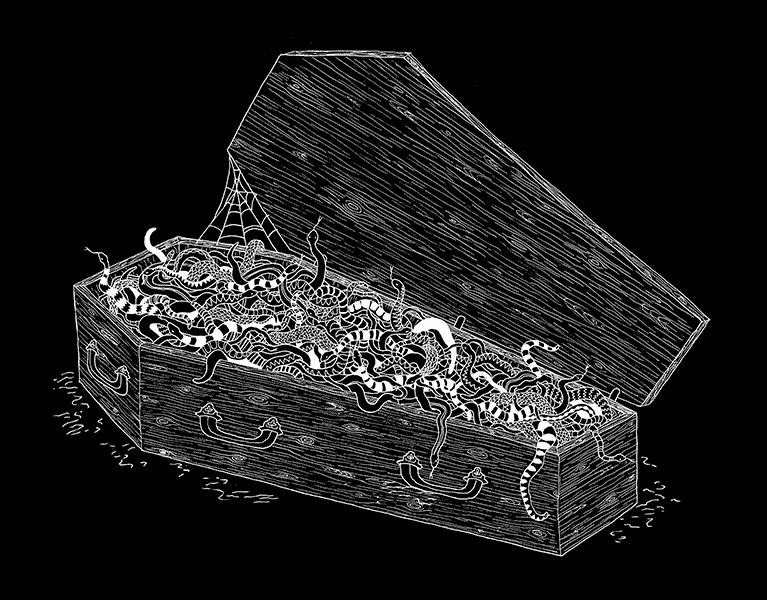 End of the Road
– Would you rather have a horse's head and a man's body, or a horse's body and a man's head?
Oh gosh a horse's body and man's head for sure, because then I could run away and be wild, but still know stuff. Also I could give awesome rides to people with horse's heads. There is a great drawing in there somewhere thanks.
– Do you have a particular question for any of the other featured artists?
Well I wondered if one of them could teach me how to draw as they are all so good.